Fans Keep Sending David Spade This Weird Kurt Cobain Mural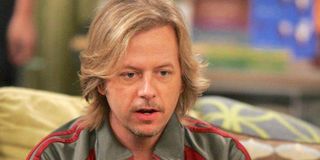 David Spade has been receiving tons of messages about a mural of Kurt Cobain by an artist who took inspiration from an Internet meme that joked about a resemblance between Spade and the late Nirvana frontman. Spade hopped on social media to let his fans and followers know he had seen the mural. The 53-year-old Saturday Night Live comedian tweeted,
Afterward, David Spade followed up with a tweet of the picture that sparked the Internet meme. Spade indicated that he did not entirely understand where the meme originated nor how the mural ended up on the wall of a building. Nevertheless, the funnyman added,
The mural is on the wall of a building in the city of Lintz, Austria. The work comes from the graffiti artist Lushsux, who apparently wanted images of the mural to go viral much like the Internet meme that inspired it. As you can see in David Spade's Twitter picture, the mural comes complete with a quote attributed to Kurt Cobain. The quote says,
While some people attribute the quote to Kurt Cobain, the words come from singer-songwriter Neil Young. However, the quote did appear in the suicide note Cobain wrote before he died in 1994. So, if you stop to think about it, a quote by Neil Young is attributed to Kurt Cobain on a mural of David Spade that is said to be Kurt Cobain.
So far, David Spade is still having fun poking fun at himself and the Kurt Cobain mural. On Twitter, Spade shared a picture of himself with supermodel Heidi Klum and kept the Cobain comedy going with a witty caption. Check it out:
The graffiti artist Lushsux also posted a photo of the mural on Twitter and received a huge reaction from many fans and followers. One the funniest commenters posted the ultra-meta meme of Patrick Stewart with the fake quote "Use the force Harry" attributed to Gandalf.
David Spade recently acted in Netflix's Sandy Wexler and Crackle's Mad Families. His upcoming book, David Spade Is Almost Interesting, will be out on October 27. Meanwhile, the graffiti artist Lushsux has a tour of an underground art gallery filled with graffiti similar to the David Spade as Kurt Cobain mural. For example, there are pictures of famous people like Barack Obama and Mark Zuckerberg with oddball quotes next to them. It will be fun to see how the meme might stick with Spade and how far it might go.
Your Daily Blend of Entertainment News
Thank you for signing up to CinemaBlend. You will receive a verification email shortly.
There was a problem. Please refresh the page and try again.