The 2 Things Tom Cruise Refuses To Talk About During Mission Impossible Interviews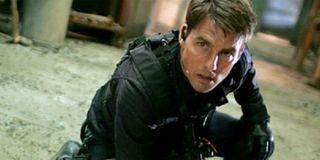 As one of the biggest celebrities of our time, Tom Cruise is no stranger to having his life plastered all over the tabloids and media. The actor has been the center of plenty a scandal, but it never really affects his overall likability. With his current worldwide promotional tour for Mission: Impossible - Rogue Nation, the 53-year-old actor had to be expecting some personal questions would come up. So, apparently Cruise has strictly taken two particular topics off the table for media outlets— his dating life and Scientology.
TheWrap has reports from an insider that claims Tom Cruise's publicity team has strictly forbidden news outlets from asking any personal questions relating to these topics. The "personal question" ban particularly includes any mention of HBO's controversial Scientology documentary Going Clear as well as rumors of Cruise's involvement with his assistant. The news of this ban comes after Cruise's appearance on Jon Stewart's The Daily Show where the host appeared to be holding back on his usual questioning style. Stewart, known for addressing the heavier topics when it comes to his interviews instead discussed the Edge of Tomorrow actor's workout routines and full head of hair.
Representatives for Cruise have not officially confirmed this specific ban, but apparently the religion questions have been a bothersome topic for the actor for some time now. Another insider told TheWrap that Cruise has become increasingly silent over the past decade on his controversial religion, and now it makes even more sense considering how the HBO documentary portrayed Cruise and fellow actor John Travolta as pawns in allegedly abusive religious organization.
Going Clear was certainly a hot topic upon its release, and the film even alleged that Cruise was fully aware of the abuses suffered by the clergy of Scientology. He has not responded on the topic, and over the years, has been quite hush hush on his religion as a whole. This would mark Cruise's first promotional tour since the release of the documentary though, so you know journalists want some answers and his own response to the allegations.
It's surprising Jon Stewart didn't even mention Scientology during their interview, so it would make sense there have been some contingencies put out for those who want to speak with Cruise. There's always one journalist out there who has no problem making things uncomfortable though. Just ask Robert Downey Jr., he's surely used to walking out of interviews by now.
Your Daily Blend of Entertainment News
Thank you for signing up to CinemaBlend. You will receive a verification email shortly.
There was a problem. Please refresh the page and try again.