How Tall Are The Hemsworth Brothers? Chris, Liam, And The Other Hemsworth's Heights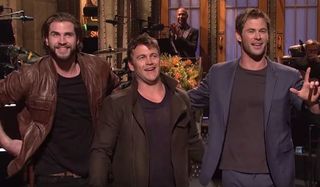 Hollywood has its share of famous families, each with their own comparative skill sets and competitive natures. One of the most recent dynasties to crop up in the movie business is that of the Hemsworth brothers: Chris, Liam, and Luke. The trio of actors have made big names for themselves over the past decade or so, and it's because of a couple factors.
Not only are their rugged good looks and formidable acting talents forces to be reckoned with, they're also pretty tall, which presumably helps them to stand out. But out of the three Hemsworth men taking Hollywood by storm, who is the tallest? While it's certainly not a competition, it's an interesting subject to talk out. That in mind, let's take a look at Chris Hemsworth, Liam Hemsworth, and Luke Hemsworth's respective height stats and see who comes out ahead in this particular game.
Chris Hemsworth – Height: 6'3''
As Thor, the mighty God of Thunder and son of Odin, Chris Hemsworth has delighted fans around the world with his demigod powers and quick wit throughout the Marvel Cinematic Universe. Coming in at 6 feet and 3 inches tall, height-wise, his stature certainly fits that of an Asgardian. Interestingly enough, his height is something that he's actually lied about in the past.
As it turns out, Chris Hemsworth has actually lied about his height in order to get more roles. Even funnier, he has said in the past that he's told casting people he's shorter, not taller, when trying to book parts. Which makes for a funny story, as the one role he didn't have to lie about his height for was, naturally, that of the lead in Kenneth Branagh's Thor, which specified 6'1" or taller as the ideal height.
Of course, thanks to his role as the young Asgardian royal, he probably doesn't have to lie too much about his height anymore. With a career that's seen him in films like Rush, Ghostbusters, and of course Avengers: Endgame, Chris Hemsworth is popular enough that he could probably add a couple inches on the top and still get cast as a regular, average guy.
Liam Hemsworth – Height: 6'3''
Best known as Gale Hawthorne, one of the two would-be suitors for the hand of the revolutionary Katniss Everdeen in The Hunger Games franchise, Liam Hemsworth is in a surprising position when it comes to his comparative height in the family. While he may be the youngest brother, he's just as tall as his older brother, Chris, clocking in at 6 feet and 3 inches.
You can imagine the jokes that must fly between Liam Hemsworth and Chris Hemsworth, as I can just imaging them trying to squeeze in every millimeter they can to claim they, indeed are the tallest. Though, as far as Liam Hemsworth is concerned, he hasn't made any remarks about having to lie about his height to get a part. If they don't joke about height, though, you at least have to guess Liam must joke about how without him, Chris might not have gotten the lead role in Thor.
In addition to his role in the Jennifer Lawrence lead franchise, Liam recently saw himself co-starring with fellow Australian Rebel Wilson in this year's rom-com Isn't It Romantic. The middle Hemsworth brother also found himself in the public eye towards the end of last year, as he and sweetheart Miley Cyrus finally married after years of courtship.
Luke Hemsworth – Height: 5'11''
The oldest of the Hemsworth family of sons, Luke Hemsworth is actually the shortest of the three celebrity brothers. Ranking in at 5 feet and 11 inches, the firstborn of the Hemsworth clan is not too far off from the matching heights of his younger brothers, but it's enough of a difference to have a noticeable effect on his personal life. It's actually something that's works out rather well in his favor.
Normally, you'd think that this would cause some sort of envy for Luke particularly when he's standing next to Liam Hemsworth or Chris Hemsworth, but the actor has previously revealed to the press that he loves it! With a shorter height, a steady gig on HBO's Westworld, and the ability to disappear into the background, you never know where you'll see Luke pop up. For instance: Did you know that he played the fake version of his brother in Thor: Ragnarok, during Loki's play? They may as well nickname him "the stealth Hemsworth."
As the other member of the Hemsworth family with Marvel Cinematic Universe experience, Luke is the one with the most regular gig in the family thanks to his small screen work. All in all, height clearly isn't an issue no matter who you are in this particular family.
Who's The Tallest Hemsworth Brother?
If there really was a competition between the three famous Hemsworth brothers and who comes out as the tallest, there'd be a tie. Between Liam and Chris's identical heights, there's no singular winner out of the three of them. However, the younger brothers in the family both outrank their older brother, Luke, as his slightly smaller stature puts him at the bottom of this pecking order. But hey, he's still the oldest.
While their heights may not differ too wildly, Luke Hemsworth, Chris Hemsworth and Liam Hemsworth are each their own men. In addition, their careers are varied enough that you can easily point towards which one swims in which circle. Finally, each of the Hemsworths have their own unique looks, while at the same time looking similar enough to denote a family resemblance. So you'd never be surprised to remember that they're all part of the same family tree, but you can always tell the difference between the three of them, which is a highly underrated pro. While they may vary in height to certain degrees, Chris, Liam, and Luke Hemsworth all have solid common ground as a trio of brothers to watch out for on the big and small screen.
Hopefully, their careers will continue to hit new heights.
Your Daily Blend of Entertainment News
Senior Movies Contributor
CinemaBlend's James Bond (expert). Also versed in Large Scale Aggressors, time travel, and Guillermo del Toro. He fights for The User.