Bonham Carter's Breast Size Issues In 'Sweeney Todd'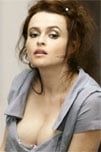 British actress Helena Bonham Carter's breasts caused major problems during the filming of her new movie Sweeney Todd.
The 41-year-old is currently starring in the film alongside Johnny Depp and only found out she was pregnant with director Tim Burton's baby halfway through the project.
The couple, who have been together since 2001, already have one child, four-year-old Billy-Ray, and the new addition is due this month (Dec07).
And Bonham Carter insists her newly inflated breasts caused havoc in many scenes of the movie, which hits cinemas on 25 December (07).
She tells New York Post, "Anyone who pays attention to my breast size will see there's no continuity.
"The first half of filming I wasn't pregnant, and the second half I was, and because we didn't shoot it in order, I start off with huge breasts and then I walk upstairs and suddenly I've got tangerines again. It's melons to tangerines." (LR/WNWCNP/CG)
Copyright 2007 WENN
Your Daily Blend of Entertainment News
Thank you for signing up to CinemaBlend. You will receive a verification email shortly.
There was a problem. Please refresh the page and try again.