Chelsea Handler Say She Was Attacked By A Sea Lion In The Pacific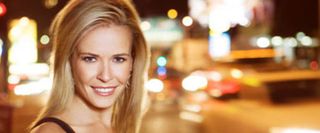 If there was ever a woman who was born to get up to ridiculous nonsense, it was probably Chelsea Handler. The Chelsea Lately host recently went on vacation, where she decided to go paddle boarding. During the course of the activity, an unusual thing happened: Handler was attacked by a sea lion.
Off the bat, this story seems like a ludicrous tale; however, Chandler first spoke of the event on her September 4 show, stating she was paddle boarding in the Pacific Ocean when a rogue sea lion took a chunk out of her leg. According to Us Weekly, the celebrity even lifted up her left leg to show her bandages before talking about the wounds.
Handler says she used some safari survival skills to keep herself from further injury and to scare the animal away. Apparently, the "loud noises" advice is legitimate.
While using a safari guide's advice to survive may not be as impressive as the kid who remembered reality TV instructions for survival while being consumed by an alligator, Pop Blend is glad Handler survived so her late night show could move to a bigger studio, and so the host could keep on telling a slew of whoppers and truths.
Your Daily Blend of Entertainment News
Thank you for signing up to CinemaBlend. You will receive a verification email shortly.
There was a problem. Please refresh the page and try again.