A Classic Avengers Story Is Getting A Whole New Spin On It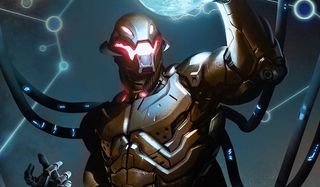 This summer, audiences watched as the Avengers fought the megalomaniacal Ultron in Avengers: Age of Ultron. Of course, this is just one interpretation of the insane robot's origin, a tale that was originally told in 1968. Next year, comic fans will get to read a new version of Ultron's creation, but this time, it's from the minds of South Korean talent. Partnering with leading mahnwa (comics and printed cartoons from South Korea) publisher Daweon C.I., Marvel has announced the release of the mahnwa adaptation Avengers K to English speaking audiences.
Described as the first in a "brand new publishing initiative," Avengers K: Avengers vs. Ultron will see Earth's Mightiest Heroes dealing with Ultron's rise to power after being created by Hank Pym. If one powerful robot wasn't bad enough, the superhero team will then have to contend with Ultron's own creation The Vision, and on top of that, there's also the mysterious Bride of Ultron (Jocasta, perhaps?). The story is written by Si Yeon Park, translated by Ji Eun Park and illustrated by Woo Bin Choi with Jae Sung Lee, Min Ju Lee, Jae Woong Lee, Hee Ye Cho, Ji Hee Choi & In Young Lee. Avengers vs. Ultron is the first in a series of five Avengers K translated volumes being planned.
Avengers K isn't the first time that original Marvel stories have been published in other countries, but it's good to see Marvel is taking steps to provide these mahnwa to readers in the United States and other English speaking countries. No doubt for many U.S. readers, this will be their first time reading a Korean comic. This publishing plan is just the latest way Marvel has spread its scope internationally in the comics department. They recently announced that they would be publishing its upcoming series International Iron Man not just in English for 40 different countries, but also translating it into the "respective languages" of 25 countries.
Like Avengers: Age of Ultron, Avengers K: Avengers: vs. Ultron obviously has to take creative liberties with how Ultron's beginnings unfold compared to the original story, but judging by the preview panels, the mahnwa style looks like it will give the tale a new kind of flair. Future Avengers K graphic novels will also be retellings of classic Avengers tales, though we'll have to wait and see which stories are awarded that honor.
Avengers K Book 1: Avengers: vs. Ultron is currently available for preorder, and you'll be able to find it on shelves next May.
Connoisseur of Marvel, DC, Star Wars, John Wick, MonsterVerse and Doctor Who lore. He's aware he looks like Harry Potter and Clark Kent.
Your Daily Blend of Entertainment News
Thank you for signing up to CinemaBlend. You will receive a verification email shortly.
There was a problem. Please refresh the page and try again.