Tony Stark Is Teaming Up With An Unlikely Partner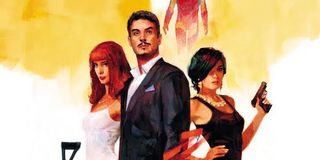 Iron Man is just one of the many heroes that's getting a new book in Marvel's All-New, All-Different relaunch. His new series Invincible Iron Man (Vol. 2) kicked off on October 7, but Marvel isn't content letting Tony Stark lead just one ongoing series. International Iron Man #1 is one the way, and while Tony will obviously be the center of attention (something he always enjoys), he'll be working with an unlikely ally on his new quest: Doctor Doom.
Written by Brian Michael Bendis and illustrated by Alex Maleev, International Iron Man will follow Tony Stark traveling across globe on a mission of justice.
Despite New York City being the main battleground in the Marvel universe, there are other evil forces around the world, and it's for that reason that Tony will be racing to help people who the Marvel superheroes don't always provide enough attention to. However, in order to to this, he'll require Doom's help, who, according to Bendis, "knows where the bodies are buried," so he's privy to inside info Tony can't discover by himself.
Warning: spoilers for the post-Secret Wars Marvel universe are ahead!
As the Fantastic Four's greatest nemesis and a thorn in the side of all Marvel heroes, one of Doctor Doom's most distinguishing physical features is the faceplate he wears to cover his disfigured visage. However, following the events of Secret Wars, Doom was seen at the end of Invincible Iron Man #1 with Tony, and surprisingly, he had a handsome face. Since Secret Wars is still ongoing, we don't know yet how Doom's face changed, but evidently he needs Tony's help with something. Now for International Iron Man, the tables have turned and the armored Avenger requires assistance from the former ruler of Latveria. So despite them being longtime enemies, they'll be forced to work together for the foreseeable future to accomplish their goals. Does anyone want to place a bet on when they'll start punching each other in the face?
If the Stark/Doom partnership isn't enough of a draw for you, Marvel is also capitalizing on the "international" aspect of the title. The title will be translated "into the respected languages of 25 different countries," not to mention being published for over 40 different countries in English. The comic book company obviously knows that Iron Man is one of their most well known superheroes, so by providing the series in so many languages, they'll be able to grow the Iron Man fanbase around the world beyond just the movies and cartoons.
You can find International Iron Man #1 in early 2016 online at sites like Comixology or at your local comic book store.
Connoisseur of Marvel, DC, Star Wars, John Wick, MonsterVerse and Doctor Who lore. He's aware he looks like Harry Potter and Clark Kent.
Your Daily Blend of Entertainment News
Thank you for signing up to CinemaBlend. You will receive a verification email shortly.
There was a problem. Please refresh the page and try again.