Divergent's Veronica Roth Writing More Stories From Four's Perspective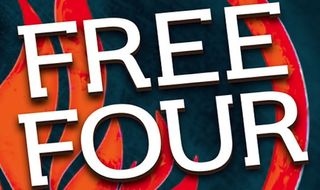 First-person narration can often be the most intimate way for a reader to connect with the story's protagonist. Unfortunately, it can also be a little limiting in the way the world is established and the supporting characters are developed. After all, everything within the story is told from the lead character's perspective. We see the story through their eyes and their mind, colored with their opinions. Writers have, from time to time, delved into the minds of other characters to tinker with their thought-processes and visit the story from a fresh angle. In the case of Twilight, Stephenie Meyer began writing Midnight Sun, a book that told Twilight from Edward's perspective. Alas, it leaked online and Meyer lost interest in the effort, posting the partial draft online for fans to enjoy.
And on the subject of popular young adult series, Divergent (opens in new tab) author Veronica Roth published Free Four: Tobias Tells The Divergent Knife-Throwing Scene (opens in new tab), which - if you're familiar with Divergent - is pretty self explanatory by the title. While Divergent tells the story of a teen living in dystopian Chicago, about to begin her training for her faction - one of five that exist in her society and determine people's way of life - the 15-page Free Four eBook takes us into the mind of Four, Tris' trainer, during the part of the book where he has to throw knives at her. The short story offers some great insight into how Four thinks and how he feels about Tris at that point in the story. From what Roth has announced, she'll be taking us into Four's mind again. Four more times, in fact.
Roth announced news of the four "e-shorts" set to be released in the near future on her blog. She doesn't get into specifics on which parts of the story we'll be revisiting through Four's perspective, but she does say that the first of the four Four stories will release September 24 and that they'll be longer than Free Four. And Amazon has it - titled The Transfer: A Divergent Story - available to pre-order here (opens in new tab).
Roth talks enthusiastically about offering readers what they've been requesting. She says she gets asked about writing more from Four's perspective all the time. And she goes on to say that she's looking forward to getting to understand the character better. Her readers will likely agree.
I think this is a great idea and I doubt I'm alone. As mentioned, first person narrative limits the story-telling to that one character. And as interesting as it is to get to know the other characters from the lead's perspective, it can be fascinating to hear the thoughts of the supporting players, or in this case, Tris' love interest and one of her most trusted allies. It may also give Roth an opportunity to tell more story, as there are things going on that Tris might not have seen during Divergent or the second book, Insurgent (opens in new tab). And it's also well worth noting that the first e-short will be released almost a month to the day before the third and final (official) book in the trilogy Allegiant (opens in new tab) arrives on October 22. The e-short should give readers something to chew on while they wait for the final book's release.
Update:
Amazon (opens in new tab) has the titles as follows:
September 24 - The Transfer (opens in new tab).
December 17 - The Initiate (opens in new tab).
January 21 - The Son (opens in new tab).
February 11 - The Traitor (opens in new tab).
We also have the Divergent movie set to arrive in theaters March 21, 2014. Here's a look at Theo James as Four in the movie:
Your Daily Blend of Entertainment News
Assistant Managing Editor
Kelly joined CinemaBlend as a freelance TV news writer in 2006 and went on to serve as the site's TV Editor before moving over to other roles on the site. At present, she's an Assistant Managing Editor who spends much of her time brainstorming and editing feature content on the site.
Your Daily Blend of Entertainment News
Thank you for signing up to CinemaBlend. You will receive a verification email shortly.
There was a problem. Please refresh the page and try again.