Driver Dies After Fatal Accident During 24 Hours Of Le Mans Race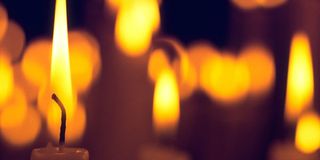 This weekend may not be a big one in the United States, but in France, the stretch offers fans the famous 24 Hours of Le Mans race, which is celebrating its 90th this year. The occasion should have been one marked by triumph, but sadly, it will now be remembered for an unspeakable tragedy. Earlier today, Danish driver and frequent 24 Hours of Le Mans events competitor Allan Simonsen died after an accident during an early lap in the big race.
The 24-hour race had barely begun when Simonsen got into the car crash that would later claim his life. According to Reuters, about ten minutes into the race, the driver encountered serious problems when his vehicle, an Aston Martin No. 95, and it spun into the barriers at a high speed.
The race car driver was taken to a hospital immediately. According to the French Le Mans website and Reuters, who translated, Simonsen made it to the hospital but did not survive long after.
The driver's team continued racing after his death as a tribute. At this time, authorities are not releasing statements beyond the preliminary announcement in order to launch a full investigation into the tragic death before any further conclusions are drawn. Suffice to say, his team is mourning the loss of Simonsen. Here's what Aston Martin Racing Managing Director John Gaw had to say about the driver in a statement just released.
The loss of Simonsen is even more saddening, considering the time and the year of the race. Additionally, the last time a fatality occurred during the Le Mans race was all the way back in 1997. Fatal accidents have tended to occur in the race's recent history once every decade or so. In 1997, it was a French driver named Sebastien Enjolras who died during pre-qualifying. A little over a decade earlier, in 1986, Jo Gartner, an Austrian man, died during the actual race. It was later determined that Gartner's vehicle had a mechanical malfunction. The driver turned left and hit the barrier, eventually flipping the vehicle and causing it to catch on fire.
Despite today's fatality, safety is still a major part of the event, and for 58 minutes after the crash occurred, drivers were asked to stay behind the safety car and lap slowly until the greenlight was given. This was done so that the barrier that Simonsen's car ran into could be repaired and the track made as safe as possible. After that time period, the endurance race resumed.
Racing has always had a reputation of being a dangerous sport, despite the careful attention and great capabilities of its drivers. Even in the United States, NASCAR has had its share of issues with tragic car crashes, most notably in the form of legend Dale Earnhardt. Regardless, it's always difficult to lose a loved one, and to lose a loved one during a sporting event must be even more difficult to deal with. Our hearts go out to the Simonsen family during this difficult time.
Amazing Race & Top Chef superfan with a pinch of Disney fairy dust thrown in. If you've created a rom-com I've probably watched it.