Emma Watson Had A Crush On Potter's Tom Felton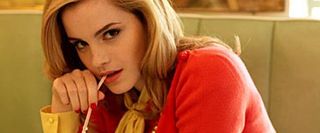 Hermione Grang-- excuse me, Emma Watson wasn't always a beautiful young woman; she used to rock the I-haven't-ever-even-seen-a-brush look, was too smart for her own good and didn't care who knew it. Now she rocks the ill-advised pixie cut and is still somehow one of the most attractive young actresses in the business. Well, it turns out that before she started taming that unkempt hair and giving Ron a break, she had the hots for one Draco Malfoy (Tom Felton).
Watson spilled the secret in an interview with People, saying,
Man, just think what those kids would look like. Talk about some weird hair; you know, the thinner than Ashley Olsen hair mixed with the thicker than an Amazonian jungle mane. This is just one of many little stories that could fill a venerable memoir of all the interesting things that went on behind the scenes of the Harry Potter franchise. After eight movies and over a decade of working together, there are bound to be some interesting stories. Perhaps they'll do some two hour special where they interview the entire cast of the film in exit-interview fashion (think "After The Roses" on The Bachelor).
Your Daily Blend of Entertainment News
Thank you for signing up to CinemaBlend. You will receive a verification email shortly.
There was a problem. Please refresh the page and try again.