How JK Rowling Feels About Hermione Changing Races In The Harry Potter Sequel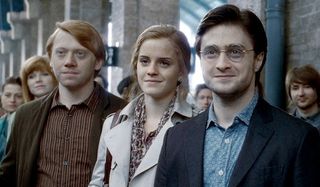 What do Harry Potter, Hermione Granger and Ron Weasley look like today? That question has been answered in the form of a casting announcement for the much anticipated stage play sequel Harry Potter and the Cursed Child. Check them out in the photo below and then read J.K. Rowling's response about Hermione Granger's race being changed from how she was depicted in the films…
Fans have been waiting for this news since we learned that Harry Potter and the Cursed Child would be a sequel to J.K. Rowling's original series. What do Harry, Ron and Hermione look like in their adult years? Well, quite different from how they were presented in the feature adaptations. Let's just get it out in the open people, Jamie Parker's hair isn't nearly as dark or messy as it should be, am I right? Ok, the biggest shift in appearance from their film adaptation counterparts is likely to be Hermione, who's depicted as caucasian in the eight Harry Potter movies. However, as Rowling points out herself, her skin color is never specified in the books on which the films are based…
"Rowling loves black Hermione." That's a stamp of approval, if ever there was one. And as she points out, canon never specifies a skin color. So this isn't even a change from the books.
Seeing as the movies took some serious liberties with the description of Hermione Granger, as it relates to the bushy hair and big teeth described in the books, neither of which really made it to the screen (apart from Hermione's hair in the first film), it seems reasonable to say that Noma Dumezweni is as suited to play the role of Hermione as Emma Watson was, at least when it comes to appearance. Race doesn't have any major impact on the story, nor does racism, really. Intolerant witches and wizards seem far more concerned over a person's magical ancestry than they are their skin color in J.K. Rowling's magical world, so this should be a non-issue. As a ticket-holding Harry Potter fan, I can't wait to see what Dumezweni brings to the role. What's Hermione like in her adult years? We'll find out in a matter of months.
In addition to an Olivier Award for her talent, Noma Dumezweni has a solid background in theater, in addition to film and television. Her stage credits include Antony and Cleopatra, Much Ado about Nothing, A Raisin in the Sun and The Winter's Tale. Jamie Parker, who plays Harry in Harry Potter and the Cursed Child, also has a background in theater, with credits that include Shakespeare's Shakespeare's As You Like It, the role of Prince Hal in Henry IV Part 1 and Henry IV Part 2, and the part of Sky Masterson in Guys and Dolls. On screen, you may have seen him playing Lieutenant Werner von Haeften in the 2008 film Valkyrie.
Finally, there's TV and film actor Paul Thornley, who's set to play Ron Weasley. Thornley's screen credits include Les Miserables, Man Up and a voice credit for the Minions movie. On the theater side of things, his credits include Noises Off, A Chorus of Disapproval Private Fears in Public Places.
Set to follow the epilogue of Harry Potter and the Deathly Hallows, which takes place nineteen years after Harry defeated Voldemort, the Cursed Child story will focus on Harry Potter's second and youngest son, Albus Severus Potter, who's struggling with "the weight of a family legacy he never wanted," as Harry is overworked as the Ministry. Past and present are said to "fuse ominously" for both characters, as they face the reality that "sometimes darkness comes from unexpected places."
With the core trio cast, we're left to wait and see which lucky kids are brought on board to play Harry, Ron and Hermione's children.
Harry Potter and the Cursed Child begins previews at the Palace Theatre in London on June 7, 2016. Tickets are naturally sold out for quite a while, but those open to booking well in advance (as in 2017) can find them on sale at HarryPotterThePlay.com.
Do you have an issue with Hermione's race being different from the films? Vote in our poll on Page 2...
This poll is no longer available.
Your Daily Blend of Entertainment News
Thank you for signing up to CinemaBlend. You will receive a verification email shortly.
There was a problem. Please refresh the page and try again.