J.K. Rowling Weighs In On Harry Potter And The Great Snape Debate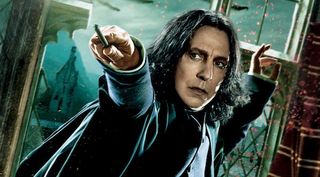 The great Snape debate. Was he a good man and just misunderstood? Or was he a bad person? J.K. Rowling addressed the topic today in a series of comments about the potions master, centering on why Harry Potter named one of his sons after him. From what the Harry Potter author says, it sounds like there's no black or white with this character.
It started with a fan asking J.K. Rowling why she picked Snape to be Harry's son's namesake…
The mention of forgiveness prompted at least one fan to defend Snape...
...to which Rowling responded with a fair contradiction…
The author went on with a few more thoughts about the choice to give young Albus Severus his name…
In the end, from Rowling's perspective, what it seems to come down to is that Severus Snape exists in a grey area because of who he is and how he lived…
Harry's choice to name his son after Snape was not only to honor the professor, but also, apparently, because Harry sought his own forgiveness…
There's a lot to mull over from all of this. For one thing, I'm glad Rowling pointed out Snape's bullying. I know I've gotten a bit ranty about this in the past, but as a relatively involved member of the Harry Potter fandom since the books were still releasing, I was always kind of confused by how strongly some fans romanticize Severus Snape. Sure, his love for Lily proved to have been ever present, and the "always" certainly adds a bit of romance to the character, demonstrating that he was capable of love, and that his love for Lily was very strong. But I never interpreted that big reveal as proof that Snape felt any love or even like for Harry, or that it somehow undid his past behavior. And Rowling appears to be confirming that when she says Snape "died for Harry out of love for Lily."
Going back and reading through the books with the knowledge that Snape's was in love with Lily, it was clear that Snape's love started and stopped with her. When it came to Harry, he seemed much more willing to bestow the hatred he felt for James than any love he felt for Lily. See his interactions with Harry throughout the entire run of the series for evidence of that. If he had any actual love for Harry, he would have — at the very least — treated him like any other student, if not been kind to him. Snape's hatred of James isn't entirely unjustified, when we consider what we know of their relationship, but it doesn't exactly demonstrate strength in character that Snape would take that hatred out on a kid who had nothing to do with it.
Don't get me wrong, I think Severus Snape is a great character — one of the series' best, in fact — and one deserving of analysis and even credit for his bravery, but I can't get behind the idea that he was this secretly great person who was just misunderstood the whole time, or that he loved Harry and we just didn't know it. Let's also not forget that he was a Death Eater. He did, who knows how many unspeakable things during that time in his life, including pass information to Voldemort that led to the Potters' deaths. Had it not been Lily who died due to his actions, would he have felt any remorse or changed his ways? That's a whole other debate, but it's not an unfair question to ask.
But that's really where J.K. Rowling's comment about Snape being grey comes in. Snape did attempt to redeem himself for his actions, in the name of his love for Lily and guilt over her death. The impact from his sacrifice was massive in the way it led to the fall of Voldemort.
Snape's demonstrated ability to love also sets him apart from Voldemort. Rowling credits him for his ability to see the goodness in Lily, even if he couldn't emulate it...
Given the positive side to the character, it makes sense that Harry would want to pay tribute to him, and express gratitude by naming one of his children after him.
While Harry Potter fans may not ever be on the same page about this topic, that doesn't seem to bother J.K. Rowling...
As for Rowling's other comment, it's interesting to hear her talk about Harry seeking his own forgiveness, as it teases the mindset of the character in his adult years. The fact that he's still haunted by the deaths of the Battle of Hogwarts is not surprising, knowing Harry as we do, and thinking back to "The Forest Again," the chapter that saw Harry walk through the chaos at Hogwarts on his way to the dark forest to face Voldemort. Apparently, he's still not over it, and that's an interesting little tidbit about the character, when we take into account the upcoming sequel to the story, Harry Potter and the Cursed Child. Given what we know about the stage play, it wouldn't be surprising if that factors into the story, or at the very least, Harry's updated character, in some way.
This poll is no longer available.
Your Daily Blend of Entertainment News
Assistant Managing Editor
Kelly joined CinemaBlend as a freelance TV news writer in 2006 and went on to serve as the site's TV Editor before moving over to other roles on the site. At present, she's an Assistant Managing Editor who spends much of her time brainstorming and editing feature content on the site.
Your Daily Blend of Entertainment News
Thank you for signing up to CinemaBlend. You will receive a verification email shortly.
There was a problem. Please refresh the page and try again.