Jessica Simpson: Did She Viva La Bam?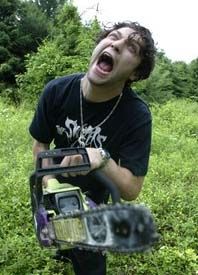 Jessica Simpson: Did She Viva La Bam? When last we heard from human shark bait Steve O, he was checking in on the phone via the Howard Stern show on Sirius. He recapped his triple clown-punch in the bed of Nicole Ritchie, she of bulging ribs.
Well - today Steve came in live, and as he is promoting the release of Jackass 2, he brought devil-may-care deodorant duke Bam Margera in with him.
Howard, while he enjoys a good skateboarding/ raging bull/ massive headwound story, was more interested in reviving the rumor of whether or not Bam slammed the angelic and divorced Jessica Simpson. This time, however, Margera had something to say.
As stated by Bam live on the air, and on Howardstern.com, he met up with Jessica while his Jackass general Johnny Knoxville was shooting 'The Dukes of Hazzard. They had a few drinks, went to her home, and...
...well, he never said, "I slept with Jessica Simpson." But he did describe in some detail how he made it home with her, and called numerous buddies from her BED. Though the nervous laughing and details given were fairly precise, we still do not have a concrete answer. Perhaps he's saving it for a possible tell-all entitled: I Had Drinks with Jessica Simpson, Went Home with Jessica Simpson, Called my Friends from Her Bed...Guess What I Did (Maybe)?
Your Daily Blend of Entertainment News