Kindle And Audible's Whispersync For Voice Review: The Best Of Both Worlds

As though I didn't already love my Kindle enough, Amazon comes up with Whispersync for Voice, a feature that speaks loud and clear to those of us who love to listen to our books as much as we love to read them. Those readers with busy work schedules and other responsibilities don't always have the option to read as much as we'd like. We find time when we can to get a few pages in. Audiobooks can prove to be useful in that regard. The house needs to be cleaned? It's time to put in a mile on the treadmill? Got a long commute? Stick a book in your ears and the time flies. But there are times when reading the actual book is preferable. For one thing, I'm sure many of us likely read a bit faster than we listen. And it's not always convenient or an option to have earphones in our ears.
Here's how Whispersync for Voice works in a nutshell, according to Amazon's site. 1) Buy the Kindle book. 2) Add narration. 3. Switch between reading and listening.The "listening" part requires the Audible app for Android or iPhone/iPod Touch, or a Kindle Fire. It doesn't appear to work in the Kindle Touch. And not all of the books offer this option, but we'll get to that in a bit. First, here's Amazon's video promoting the option, which breaks down the feature and the process pretty neatly.
Whispersync for Voice hasn't invented the option to switch off between reading and listening to a book, it's just making it simpler and more affordable. I've subscribed to Audible.com on and off for close to a decade. When I had a long commute to and from work, I was a big audiobook listener. I cancelled my subscription when I no longer had the commute to deal with and lately I do most of my reading through my Kindle. But I do still like audiobooks when I'm working out, cleaning, cooking or doing anything else that requires an entertaining distraction.
Earlier this year I reread Orson Scott Card's Ender's Game. Since I only had the audiobook at the time, I decided to buy the Kindle eBook and ended up switching back and forth between the two versions, updating the book manually each time I switched from Audible to Kindle. At the time, I wished there were a way my Audible app could sync with my Kindle. Anyone who uses multiple devices to read their Kindle books knows how convenient Whispersync feature is. I barely even think about it anymore, so I doubt I'm alone in craving a similar feature for the audiobook. in fact, I know I'm not, because Amazon came up with it in Whispersync for Voice.
WfV is not automatically available for all Kindle books that are also available as an Audible audiobook. For example, you can get the Kindle edition of J.K. Rowling's A Casual Vacancy and you can get the audiobook version at Audible, but they won't sync and there's no discount to purchase the Audible version if you've paid for the eBook. The option to purchase the audiobook is there among the Formats, but there's no "Add Narration" option.
Just for reference, books with Whispersync for Voice have this logo among the book information (usually somewhere below the Kindle book's price information):
I did a bit of spot checking and found that more books I searched for didn't have the WfV option than did, but I'm hopeful that Amazon and Audible will continue to fill the library with this feature. And I'm guessing Rowling's new book doesn't offer it because it's a new release - but like I said, that's just a guess.
In Sync
A couple of weeks ago, I started reading Joe Hill's excellent novel Horns. I was enjoying it on my Kindle when I decided to check to see if it had the Whispersync for Voice option. Sure enough, it did. The cost for the audiobook through the WfV option was $9.95. That's the discounted rate to "add narration" since I'd already purchased the Kindle eBook through Amazon. I was adding $10 to the $8 I already spent on the eBook, but I knew by that point that I liked the book and I also felt certain I'd get good use out of both versions (and maybe the audiobook would provide me with a bit more motivation to get on the treadmill or do the dishes). Plus, I wanted to test out the feature to see how I liked it. So, I linked my Amazon and Audible accounts (the process to do that was simple enough - I was taken through it when I clicked the Add narration feature) and purchased the audiobook at Audible.
After about a week of jumping between Kindle and the Audible app to read the book, I've decided I love this feature (the book is also really great, which is a plus). It's about as good as I could have hoped. No more jumping around the audiobook trying to guestimate where I am in it based on what percentage of the book I've read. There's probably a mathematical approach to manual-syncing but I'd be lying if I said I ever tried that. With WfV, when I sync my Kindle, it factors the audiobook into the furthest-page-read sync and jumps to that point in the book. And when I refresh the Audible app on my iPod Touch, it syncs the story to the furthest "page" read from my Kindle. We're all on the same page here, and that's a good thing.
The Price
I'm happy to purchase both the Kindle and the audiobook of the same novel if I like the book enough. The problem is, unless you're an Audible subscriber, the price for audiobooks a la carte isn't cheap. You're probably looking at at least $20 for a popular novel at Audible. It depends on the book, but the audiobook for a full novel is usually pricey by comparison to the cost of a paperback. Tacked onto the cost of a Kindle book, which could run $10 or more, reading could prove to be an expensive habit. (Example: A Casual Vacancy is $14.99 for the Kindle edition, and $26.95 for the Audible version - that's without WfV since it's not an option for that book). I'm not sure I could justify spending $30 or more for one book, unless I really loved it and planned to read it numerous times. But for a new release that I haven't read yet, no way.
Whispersync for Voice sets the cost of the audiobook (or "add narration") at a discounted rate, which makes the situation much more reasonable. You buy the Kindle book, you have the option for the discounted audiobook. In the case of Horns, it was $9.95 to "add narration." And I just did the "Add narration" option for Ally Condie's Matched for $3.95 after purchasing the Kindle version at $9.99. $14 for both versions of the book is a great deal. Practically a steal, in fact. Of course, we'll see how I feel about the purchases once I've read the book, but even so, it's a fair price.
Availability and Usability
So I'm happy with the feature and the price is reasonable. Those are both wins. But as I mentioned, I've been an Audible subscriber on and off for ten years and over that time, have collected a number of audiobooks. I've since purchased the eBooks for some of those books. I will never get tired of reading Stephen King's It, for example, so I'm glad to have both the Audible audiobook and the eBook. Does Whispersync work with It? No, because the feature isn't available for that book (yet). But again, hopefully in time, older books will be updated to carry the feature.
Whispersync for Voice should work with previously purchased Kindle books and Audible audiobooks, according to Audible.com. So if you previously owned both the audiobook and the Kindle version of a book that now offers the WfV feature, it's supposed to work with it. I tried to test that on The Hunger Games and The Girl with the Dragon Tattoo since I own both versions of both books.
I downloaded both audiobooks with the Audible app, but had some trouble with the syncing. I was able to get the Kindle to sync to where I was in the audiobook, but I didn't have much luck getting the Audible app to sync to catch up with the Kindle. The fact that the Kindle devices synced suggests that the feature should work, but communication seems to be one-sided there. Could be an issue with the app (or just a delay), but it's working fine with Horns, so the problem seems to only apply to the older books, both of which I owned before this feature was available. Hopefully that'll be worked out soon (and if anyone with any experience with this situation has any advice, feel free to post a comment!)
Over all though, this is a great feature, and Amazon and Audible have made it reasonably priced, which is another big selling point. I wouldn't do it for every book I read, but I can definitely see the benefits of the feature.
Here are the Whispersync for Voice-ready books at Amazon.com.
Your Daily Blend of Entertainment News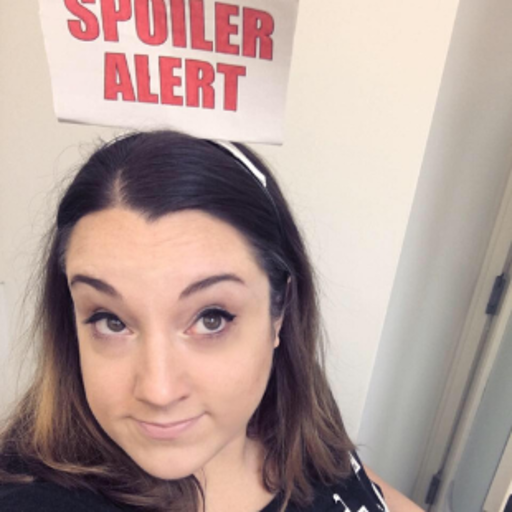 Assistant Managing Editor
Kelly joined CinemaBlend as a freelance TV news writer in 2006 and went on to serve as the site's TV Editor before moving over to other roles on the site. At present, she's an Assistant Managing Editor who spends much of her time brainstorming and editing feature content on the site.