Longmire's Katherine LaNasa Marries Melrose Place's Grant Show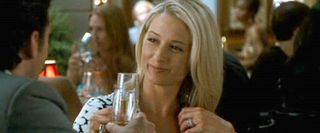 Hopefully, the third time will prove a charm for Katherine LaNasa. The actress was married to actor Grant Show on Saturday in Topanga, California, in a nursery (the tree kind, not the human kind), which may be the cutest ceremony idea ever. The wedding was LaNasa's third trip to the alter, but this time around, the 45-year-old has traded up in the looks department.
Back in the day, LaNasa was married to actor Dennis Hopper, may he rest in peace, but the marriage ended after only three years in 1992. Then, she got involved with 3rd Rock From The Sun actor French Stewart. They lasted over a decade, but still didn't make it to the "til death do you part" stuff. Then she met the handsome former Melrose Place star, who was only recently divorced from his first wife, and their relationship became a match made in six degrees of separation heaven.
According to US Weekly, Show only proposed to The Campaign actress earlier this summer, so the wedding had to have been planned well under the one year allotment most brides go for. Luckily, the two seem to have done well with the venue and Show did even better with the ring—buying his beautiful bride a 4-carat-beauty for her left hand.
Pop Blend would like to wish the couple nothing but our best as they move into a brand new stage in their relationship.
Your Daily Blend of Entertainment News