Marvel Announces New Guardians Of The Galaxy Spinoff Series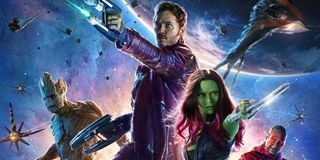 With a while to wait for the next installation to the Guardians of the Galaxy cinematic universe, Marvel is giving us some goodies to help us through our anticipation. Not only are we getting a Disney XD animated series, as well as the already announced Star-Lord, Guardians of the Galaxy, and Drax the Destroyer comics, but now Marvel has announced a totally new concept that will bring a bunch of different Guardians characters into the fold: Guardians of Infinity .
Offering up an opportunity for readers to experience brand new time-traveling adventures, Guardians of Infinity will see the combination of characters from the Guardians 3000 comic book series, with the more universally known characters from the Guardians of the Galaxy. The new series will be written by Guardians 3000 writer Dan Abnett with art by Carlo Barberi. According to the Marvel (via Comic Book), Groot, Rocket and Drax have bit off more than they can chew, and are about to get into even more trouble than usual, when the Guardians 3000 step into help. How will this go over with the notorious crew? Sounds like there may be some competition on the horizon.
Each issue is also going to feature a backup story by big Marvel names, the first being a Rocket Raccoon and The Thing team-up story by Jason Latour and Jim Cheung. And on top of these two teams getting together, a whole new team will be introduced, the Guardians 1000. The cover art, which you can see above is looking pretty fantastic, with plenty of detailed characters involved, so we can't wait to see what mayhem this new crew is up to when Guardians of Infinity hits shelves in December.
As for our cinematic Guardians of the Galaxy crew, we're counting down the moment till they take the big screen over in their second showing on May 5, 2017. Director of the flick, James Gunn has kept us occupied in the meantime with plenty of teases into what's to come. But at least for those of us who just can't get enough of the ragtag group of intergalactic misfits, we can continue reading these exciting new comic books.
Your Daily Blend of Entertainment News
Thank you for signing up to CinemaBlend. You will receive a verification email shortly.
There was a problem. Please refresh the page and try again.