'N Sync's VMAs Reunion: How Will Justin Timberlake Avoid Looking Totally Embarrassed?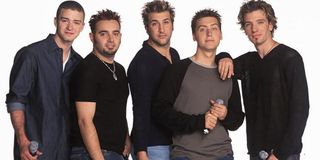 98 Degrees, The Backstreet Boys and New Kids On The Block did it and took the act on tour. Destiny's Child did it as part of one of the best Super Bowl halftime performances in recent memory. The Spice Girls did at the damn Olympics. Reuniting the all-girl or all-guy singing group that got you your start is all the rage these days, so it shouldn't come as that much of a surprise that 'N Sync is rumored to be jumping on the trend, with a "surprise" reunion planned for this Sunday's VMA Awards. (Side note: with the Daft Punk and Lady Gaga appearances already planned, aren't these VMAs looking a little crowded?)
'N Sync is just as much a relic of an earlier time as Backstreet Boys and Destiny's Child, and in this era of endless 90s nostalgia on the Internet, their reunion makes perfect sense. But there's something about the image of those 30-something guys all up on stage, dancing together, that still seems impossible. Unlike New Kids and Backstreet Boys, 'N Sync hasn't recorded new music together since their unofficial breakup in 2002, and unlike Destiny's Child, they never had a farewell tour or album to definitively cap their time together. 'N Sync seemed like an embarrassing bunch of childhood friends whom Justin Timberlake left behind when he kicked off his solo career, and to add insult to injury, Timberlake basically publicly confirmed it. He's been quoted saying he looked like a moron during those days, and didn't invite any of his former bandmates to his wedding last year. It wasn't a Lennon-McCartney-level feud, but 'N Sync and Justin Timberlake seemed to have very definitively parted ways-- and imagining them looking like a unit, even for the length of a five-minute montage onstage, is pretty difficult.
On top of that, a big part of the 'N Sync style and appeal was exactly the same stuff that Timberlake says made him look like a moron. The matching suits. The shiny pants. The highlighted hair. These are all as far as humanly possible from Timberlake's current sleek, Sinatra-inspired style. Can you even believe he's the same person as the goofball below?
Timberlake isn't the only former group member to totally eclipse his pals in terms of fame-- Posh Spice looked visibly bored to be surrounded by the less-famous Spice Girls at the Olympics, and Beyonce clearly outshone both Kelly Rowland and Michelle Williams during the Destiny's Child reunion. But Beyonce always outshone her bandmates; 'N Sync was ostensibly an even playing field, with each of the five guys getting solos and the chance to dance up front. That illusion is completely shattered now, and Timberlake's fame-- and continuing stage presence-- is likely to be distracting no matter how much the show's organizers give Lance Bass, Chris Kirkpatrick, Joey Fatone and JC Chasez to do. Timberlake, after all, is the one accepting the Michael Jackson Video Vanguard Award at the show. He's clearly the boss now, which will make any 'N Sync reunion performance drastically different from what made them famous.
Sure, the guys might all wear matching outfits and do the "Bye Bye Bye" dance, and Timberlake is obviously a decent enough actor to smile and look comfortable with the whole thing. But sometimes nostalgia is something that can't be revived, no matter how much money the guys are being paid and how many Millennials will be screaming in the front row at the VMAs. 'N Sync was a little embarrassing at the time, but it's part of the past and what gave us the JT we know today-- a JT who takes his superstar image very seriously, and who seems highly, highly unlikely to enjoy that reminder of his goofy-ass past.
If you want to practice your cringing ahead of Sunday's show, here's a bit from the 2000 VMAs to prepare you:
Your Daily Blend of Entertainment News
Staff Writer at CinemaBlend