The One Person Chris Evans Really Wants To Meet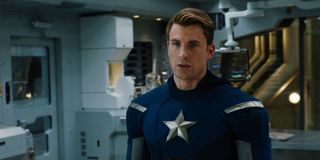 Chris Evans has always been very vocal about his love for the New England Patriots. When you are a Boston native, you kind of have to be. That and the Red Sox, of course. So when Chris Evans was asked about his love for the Patriots, and whether or not he's met their famous quarterback, well the actor had a few things to say. Notably, how much he wants to meet New England Patriots quarterback Tom Brady, and so much so, he might pee his pants in excitement.
Chris Evans, while most popularly known for his leadership role in the Marvel universe, is currently on a promotional tour for his own directorial debut, Before We Go. The actor/director sat down with Collider to discuss the film, and it started off with a joke that the only reason Evans actually got into acting and directing was so that he could get good seats at Fenway Park and Gillette Stadium, That, and of course eventually meet Super Bowl MVP, Tom Brady. Evans, verified part of this statement, mostly in the fact that he is a diehard Brady fan, and Evans is just dying to meet him:
Evans also spoke of his jealousy of Mark Wahlberg, another diehard Boston fan, who's used his acting prowess to gain access to said football legend. Wahlberg even got to work with Tom Brady on his latest flick Ted 2.
So when will Evans get to meet the man of his dreams? Hopefully soon. The two certainly live in the same circles. Evans even admitted that he did see Tom Brady from a distance once, but didn't want to interrupt. He's all about it 'happening organically', and hey who knows, maybe Brady will want to meet the guy who rocks the red, white and blue, too.
We've seen Evans take his fandom to an extreme even recently, when he bet his fellow Marvel superhero pal Chris Pratt on last years' Super Bowl, which the Captain of course won. But the two used the bet to raise more than $27,000 in charity and even showed up in costume at Children's Hospitals in their respective cities. Actually, that may just be Evans 'in'. Kids love Captain America. Tom Brady has kids. You see where this is going?
As for Tom Brady, he's got enough to deal with right now aside from worry about any meet-and-greets with celebrities. It's a tough job being one of the league's most hated players, but hey, he'll still continue being the best anyways (Go Pats!).
Your Daily Blend of Entertainment News