Reese Witherspoon's Parents Squabbling In Divorce Court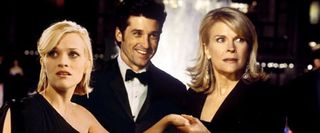 Reese Witherspoon's parents are bracing for a legal battle over a situation that is vaguely reminiscent of Sweet Home Alabama, without the cutesy lighting on the beach moments. Apparently, Witherspoon's father, John, and her mother, Betty, have been separated since 1996, but never divorced. Despite this, apparently John remarried in January leaving Betty, who never granted any such divorce, as a very unhappy camper.
So far, Reese has wisely stayed out of the matter, leaving her doctor dad and her mother to work things out. John has also pretty much avoided discussing the situation, but Betty was the one who filled out the legal affidavit in Tennessee, and thus we now know exactly how the jilted ex feels.
The document says a lot of horrid things about Witherspoon's father, including mentioning his getting fired, his problems with alcohol, and a more than minor hoarding problem. However, I would suggest taking Betty's word with a grain of salt, as she also espoused her husband is stating he does not even know his new wife, Tricianne Taylor.
According to People, all of these claims must be bogus or best-case scenario, Betty is a little senile, because John tried to bring his new wife to Witherspoon's wedding ceremony a little over a year ago and his new leading lady was actually turned away from the venue. Clearly, there are some bad feelings somewhere, but whether or not this really warrants legal representation is another story. Maybe to save face and stay out of the news, it would really just be best to sign the papers and find some happiness in the future, without somebody to nag.
Your Daily Blend of Entertainment News
Thank you for signing up to CinemaBlend. You will receive a verification email shortly.
There was a problem. Please refresh the page and try again.