Ryan Gosling Says No One Compares To Ex-Girlfriends Rachel McAdams And Sandra Bullock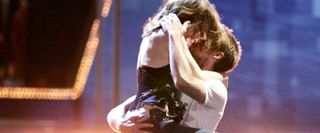 It's almost as if Ryan Gosling has a personal fixation on saying the exact right thing in every interview to make women the world over worship him. This time, he's honoring his past girlfriends Rachel McAdams and Sandra Bullock, saying he would love to get married and have babies, but no one who compares to his former loves has come along. Take note, Brad Pitt-- if you're going to reference your ex in the press, this is the way to do it.
Gosling dated Bullock for a year after they made the film Murder By Numbers together in 2001, and his relationship with The Notebook co-star McAdams lasted from 2005-2007, with a brief reconciliation in 2008. The two famously appeared at the 2005 MTV Movie Awards together, re-enacting their famous lip lock from the film while accepting the "Best Kiss" award as seen in the photo above. Gosling was recently seen kissing actress Eva Mendes at Disneyland, but he told the British newspaper The Times (opens in new tab) that he isn't in a serious relationship with anyone at the moment, and that work is the focus right now:
Wow, he really makes it sound like he'd much rather be a dad right now, but hasn't found the right woman, so he's just kind of settling for making movies until that happens. Cute. I find it interesting that he says he's fine with not being able to be a family man and act in movies simultaneously-- plenty of famous actors are able to juggle both, but it seems he wants to be very committed to that family when it does happen. Good for him, though I'd be sad to see him stop acting.
Gosling, 30, also suggested that when he does settle down, he may not want it to be with another co-worker, saying, "Show business is the bad guy. When both people are in show business it's too much show business. It takes all of the light, so nothing else can grow." Still, he scoffs at celebrities who complain that the fame is too much for them: "[Being a celebrity is] like the best drug you'll ever do. Magical things happen. There's instant access to everything. As with all drugs there's a dark side, but when actors talk about the downside of fame I roll my eyes. You say you want something, it appears. The people in movies become the people you know."
I gotta say, it's kind of annoying when celebrities constantly complain about their fame, so it's nice to see that Gosling is taking some time to enjoy it. Again, he just always says the right thing. He's almost too perfect-- it makes me wonder what could be wrong with him. As for now, I think most of us would agree that when it comes to Ryan, no flaws have been found.
Your Daily Blend of Entertainment News
Thank you for signing up to CinemaBlend. You will receive a verification email shortly.
There was a problem. Please refresh the page and try again.