Ryan Lochte Is Searching For His Dream Girl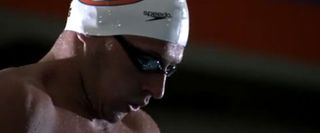 Ryan Lochte has a lot to celebrate. The 2012 London Olympic Games yielded the swimmer five medals, several of which were a pretty gold color. Now that the games are over, Lochte would just like to take a break from training, have a little fun with his friends, and maybe even meet the right sort of girl.
This weekend, the 28-year-old headed to Las Vegas with his friends, with every intention to relax poolside. The Olympian did manage to have some fun in the sun, but he also spoke to People about his plans for the next several weeks. As if the swimmer didn't make it apparent by his random Vegas adventure, he really just wants to have a little fun.
Despite wanting to party with his best buds, including fellow swimmer Cullen Jones, Lochte is always looking for something a little more serious in his relationships. Although he wants to find a nice girl to date, it doesn't seem like the man has marriage on the brain, yet.
It's that "a bit" part that speaks worlds, but it is nice to know the medal winner has his mind on the future and not simply his past achievements. From the looks of things, he's still pulling pretty hard to get into acting, even appearing in the upcoming season of 90210. With a little luck, any number of these goals may pan out over the next couple of months.
Your Daily Blend of Entertainment News
Thank you for signing up to CinemaBlend. You will receive a verification email shortly.
There was a problem. Please refresh the page and try again.