SWAT Team Dresses As Superheroes And Drops In At A Children's Hospital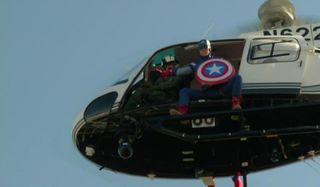 Justice is served! Well, at least at a Texas Children's Hospital where members of the Austin SWAT Team, dressed up as superheroes before making an appearance to spread some cheer. Take a look.
In the short video posted to the Fox News Facebook page, SWAT Team members from the Austin Police Department in Texas, dressed up as popular superheroes before making an appearance at the Dell Children's Medical Center. Some of the popular characters in attendance included, Superman, Batman, Captain America, Wonder Woman, Wolverine, Iron Man, Star Lord, Bat Girl and noted Batman villain, The Joker. No doubt, the men and women in blue made quite an impression on the young patients who could use a little cheering up. This was the first time that the Austin Police hosted the "Superheroes Day" for the children. In an interview with Austin's KXAN, Senior Police Officer Matt Harmatuck described the reason for the event:
With an entrance only suitable for members of the SWAT Team, some of Austin's finest scaled down the side of the building before making their way inside to greet the patients and perform a skit. Naturally, that included catching suspected bank robber, The Joker, and bringing him into police custody. The Joker had apparently stole ice cream and stuffed animals meant for the children at Dell Children's Medical Center. Clearly, he had to be stopped. In the end, the SWAT Team was victorious and the ice cream and stuffed animals were returned to the children, their rightful owners. Justice was indeed served.
"Superheroes Day" may have been a first for the Austin Police, but it likely won't be the last. Assistant Police Chief Jason Dusterhoft plans to continue the Austin Police event at Dell Children's Hospital as a tradition, primarily because of the impact that it had on the young patients. But for now, the timing couldn't have been more perfect for the first time event. With the recent release of Avengers: Age of Ultron—an ensemble superhero movie no less—the children at Dell Children's Medical Center won't feel left out of because they weren't able to make it to the movie theaters. They got their own show and it just might have been even better, since they had a chance to interact with real life superheroes—men and women in blue—who just so happened to be dressed in costumes for the day.
Your Daily Blend of Entertainment News