Schindler's List Being Auctioned On Ebay For $3 Million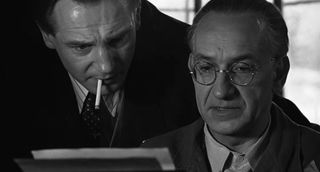 Usually when high profile items hit the market they are sold through big auction houses with stuffy names, like Sotheby's and Christie's. However, Ebay is currently running an auction on an interesting and rare piece of history with a bidding price starting at $3 million. If you are wondering what sort of item might warrant a payday that is so high, I'll go ahead and tell you it's not art. Instead, it's a rare and valuable copy of Schindler's list that will be sold along with a briefcase owned by Oskar Schindler.
The list is a 14-page document from April 18, 1945 that features 801 male names that were part of Schindler's list, a list that achieved even more fame thanks to a 1993 film by Steven Spielberg. The list was initially typed up by Itzhak Stern, who later gave it to his nephew. Stern's nephew sold the documents to a private party back in 2011 and now that private party wants to sell the precious item. For those not familiar with this period in history, Stern was Schindler's right hand man, who took care of the factory accounts and did other work for the factory owner, and who helped to save the lives of thousands of Jews during World War II. Stern was played by Ben Kingsley in the film adaption.
California collectors Gary Zimet and Eric Gazin put the actual copy of Schindler's list on the market and hope to rake in as much as $5 million for the document. According to the New York Post, the collectors opted to sell the item via Ebay, saying they liked the worldwide nature of the platform.
According to the Ebay (opens in new tab) posting, the document is only one of four known copies. It's also the only copy to ever be available on the market, as the rest of the copies are currently in the hands of institutions. This list was typed up on onion skin paper and the auction has been posted since Thursday. Currently, there are no bids on the rare and expensive item.
In the 1940s, Schindler worked to collect information for the Nazis, eventually obtaining an enamelware factory on the advice of stern. The two worked together through the war, creating enamelware products and employing as many Jewish individuals as possible. At its peak, the factory employed about 1,750 workers, over a thousand of which were Jews. Lists were kept of these employees, of which the Ebay sale is one example.
Reality TV fan with a pinch of Disney fairy dust thrown in. Theme park junkie. If you've created a rom-com I've probably watched it.
Your Daily Blend of Entertainment News
Thank you for signing up to CinemaBlend. You will receive a verification email shortly.
There was a problem. Please refresh the page and try again.