See The Incredible Joker Costume Rick Baker Made For His Daughter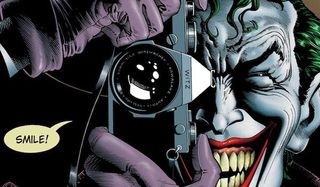 If you have one of the greatest practical special effects creators of all time as a father, planning your Halloween costume must be a pretty damn awesome time. Most of us have a crazy idea, but when it comes to executing it, either we give up because it's too difficult to pull off, or the reality pales in comparison to what we saw in our mind. But check out this incredible Joker costume that Rick Baker made for his daughter. Try not to get too jealous.
Baker shared this image on Twitter, and it's damn impressive. Again, his daughter, Veronica Baker, has a leg up when it comes to winning the annual Best Halloween competition, but you can rest assured that she has some pretty stiff competition at the office. As it turns out, she just so happens to work at DC Entertainment, toiling away in the digital marketing department of the comic book giant. You have to imagine that this is the type of workplace where most, if not all, of her coworkers go balls-to-the-wall to celebrate the spookiest holiday. And if you're going to go as the Clown Prince of Crime at the DC offices, you damn well better bring your A game.
Baker's resume is like a laundry list of great movies. He's worked on everything from Star Wars to An American Werewolf in London to Harry and the Hendersons and most recently Maleficent. And, of course, Batman movis. You look at his credits and all you can say is, "Damn."
This particular iteration of the Dark Night's most famous nemesis is a recreation of the 1988 classic Batman: The Killing Joke. From the creative team of Alan Moore and Brian Bolland, the one-shot graphic novel is considered by many to be one of the greatest Caped Crusader stories ever published. With a history as long as this particular character's, that's an impressive feat. The book won an Eisner Award, landed on the best-seller list, and is still hugely influential today in how both Batman and the Joker are portrayed on the page on screen.
The Killing Joke is actually next up for DC to turn into an animated feature. Animator James Tucker, who is steering the project, recently revealed that he even got the OK to make the project R-rated if necessary. Though such a decision is still a long way off, it's nice to know that DC is willing to allow the creative freedom to tell what is a bleak, disturbing story in the whatever way will best serve the narrative. The story revolves around the Joker trying to drive James Gordon insane, and paints Joker as a mirror to Batman, showing that the hero is just as unhinged as the villain. Dark and nihilistic, it's a grim time, with an ambiguous ending that is still the subject of great debate. In short, we can't wait to see it.
Your Daily Blend of Entertainment News
Thank you for signing up to CinemaBlend. You will receive a verification email shortly.
There was a problem. Please refresh the page and try again.