See Miley Cyrus Pose Naked With A Pig For Paper Magazine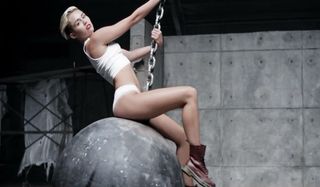 Miley Cyrus is being Miley Cyrus again, and this time around, the popstar/actress/activist stripped down for the latest edition of Paper Magazine. You may recall the same magazine hosting another bare-bummed celebrity earlier this year. But for Miley, of course, her photo shoot was nothing if not unique. Take a look at the cover, where Cyrus poses with a pig.
Lately, Miley Cyrus has been popping up frequently in the media with quite the expressive content. Everything from posting photos of her pink-dyed underarm hair all the way to her backyard jam sessions with celebrity friends. The young star has come into her own with a unique voice that is distinctively hers. And now, with her latest cover story in Paper Magazine, the young starlet has opened up on a number of personal issues from her sexuality to her activism.
Miley Cyrus bared all in the photo shoot showing off her eclectic taste in the form of geometric patterns and bright colored paint all over her body. The cover shot features Cyrus covered in what looks like dried up mud as she cuddles up with a big old Babe. While the singer continues to perform, and gains more attention by the minute, she has definitely grown up and away from her Hannah Montana days. Now, she sings about a bit more mature content, and has been using her platform as a celebrity to voice her social activism.
The segment in Paper Magazine recounts Cyrus' recently announced Happy Hippie Foundation, a philanthropic venture designed to help homeless and LGBT youth. And whether or not you agree with Miley and her ways, there's no doubting her passion behind her recent projects. Here you can see one of her recent Happy Hippie Foundation jam sessions where Cyrus is joined by Joan Jett and Against Me!'s Laura Jane Grace.
Love her, hate her, Miley Cyrus isn't going anywhere any time soon. She may just seeking attention, or she may be completely sincere in her actions, but at the end of the day, she sure does wants people to listen.
Your Daily Blend of Entertainment News