Star Wars Announces New Chewbacca Series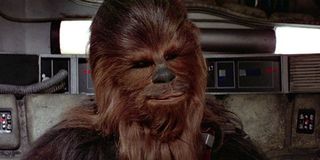 Big news for Star Wars comic book fans comes right from San Diego Comic Con, as Marvel announces the galaxy's favorite furball is getting his own, limited series. Chewbacca, with his roaring good looks, and his admirable loyalty was a character in the Star Wars franchise that any level fan can recall, and now, he'll be getting his own solo series written by Gerry Duggan and art by Phil Noto.
The five-issue series was announced earlier today during the Star Wars Publishing panel at SDCC as the comic publisher revealed the Wookie would finally be getting his time to shine. Written by Gerry Duggan, known for his run on Deadpool with art by Phil Noto (Black Widow) the series will follow Chewie on his adventures set directly after A New Hope. It will be the first time that the publisher has ever expanded a line of comics based on the classic film series.
The sidekick adventurer will find himself crash-landed on a strange planet and will have to team up with new allies, while potentially bumping into some old acquaintances along the way. MTV sat down with Gerry Duggan to chat about the upcoming comic (they also have a couple awesome first issue variant covers that you can check out here) and Duggan discussed his exciting new project with all it has to offer. One of the bigger questions that needs answering though, is how are we (as readers) going to understand a character who has quite the specific way of communicating? Well, lucky for Chewie, he's got a friend on this planet he crash landed, and according to the writer of the series, the young woman speaks the same basic language. So maybe she can help us translate.
Chewie was on a special mission when he was marooned on this planet, too, so it is especially important the big ball of fur find a way to get his ship back up and running. But if we've learned anything from marooned ships in Star Wars films, it really is never that easy to get a quick fix without trouble brewing.
This isn't the first time Chewbacca has had his own comic book though. You may remember Dark Horse's run back in 2000 featuring a number of returning characters from the original trilogy. We'll have to wait and see what familiar faces will be in Duggan and Noto's run, but look for Marvel's Chewbacca series when it hits shelves in October.
Your Daily Blend of Entertainment News