Tracy Morgan Rushed From Sundance To Hospital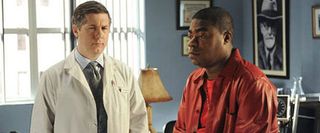 Sundance is a long, difficult week of watching films and putting in appearances. Couple the often grueling atmosphere with a high altitude, a ton of snow and little sleep, and what we are left with is a scene that is ripe for illness. As it turns out, Sundance's latest victim is none other than Tracy Morgan.
On Sunday, Morgan was to be honored at a Sundance festival event, the Creative Coalition Spotlight Awards, when he collapsed. The 30 Rock actor was then taken to a hospital in Park City, Utah to be treated. Luckily, the trip to the hospital did not end in disaster. According to ABC News, the actor was hospitalized for a "combination of exhaustion and altitude," but post treatment, Morgan seems to be doing fine.
Early reports indicated that Morgan had been exhaustively drinking during the ceremony. He was later asked to leave and made it outside the building before collapsing. However, the statement Morgan's representative released vehemently denies he was drinking. Whatever the case may be, collapsing in front of tons of people and subsequently being hospitalized is a pretty big scare. Pop Blend is happy to report Morgan seems to now be hanging out with his fiancé and getting some much needed rest and treatment in the hospital. Hopefully, in the future, Morgan will be certain to get enough sleep when he is at a high altitude. Laying off the sauce seems pretty key, too.
Your Daily Blend of Entertainment News
Thank you for signing up to CinemaBlend. You will receive a verification email shortly.
There was a problem. Please refresh the page and try again.