Two-Headed Turtle On Display At The San Antonio Zoo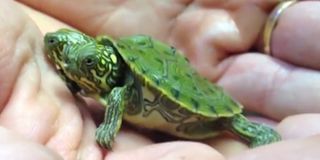 It's not often that I think of San Antonio, Texas. The United States' seventh most populous city only has a place in my memory thanks to the Spurs and the devastation of the Mexican-American War. Now, however, I will fondly remember the city thanks to its ownership of a conjoined turtle named Thelma and Louise.
The San Antonio Zoo acquired the two-headed reptile only recently, after the Texas river cooter turtle was born at the facility on June 18. At birth Thelma and Louise was part of a quartet of baby turtles, although the New York Daily News is reporting the turtle is the only one in the quartet to be born with two heads. So far, Thelma and Louise has been able to swim quite adeptly and get involved with other normal turtle activities. She's a pint-sized fighter and should be a pretty sweet attraction for the zoo.
In fact, the San Antonio Zoo is actually fairly well-known for housing two-headed creatures, having kept a two-headed Texas rat snake on display for almost two decades between 1978 and 1995. You can see a display of some similarly two-headed creatures that have made the headlines in recent years over at Today. None of them are quite as cute as Thelma and Louise, well except for the two-headed cat named Duecy, but that story, unfortunately, doesn't have a happy ending.
Thelma and Louise only went on display at the San Antonio Zoo on Thursday, and Jewish News One caught some awesome footage of the turtle for fans to check out. Unless you are familiar with Texas river cooters, I'm guessing Thelma and Louise is a lot smaller than you might expect. Even though she was just born a little over a week ago, the two-headed creature has already figured out how to compensate for having two heads on one body. It's amazing how turtles can thrive despite issues, and it's even more amazing that the zoo is willing to put a turtle as special as Thelma and Louise on display.
Thelma and Louise was bred for captivity, so unlike these awesome turtles, she won't be released into the wild anytime soon. On the bright side, you can see her anytime you want at the San Antonio Zoo. Something tells me plenty of people will follow through on that desire over the next few months; so, if I were you, I'd plan to get there on the earlier side to avoid lines.
Amazing Race & Top Chef superfan with a pinch of Disney fairy dust thrown in. If you've created a rom-com I've probably watched it.
Your Daily Blend of Entertainment News
Thank you for signing up to CinemaBlend. You will receive a verification email shortly.
There was a problem. Please refresh the page and try again.