Wealthy Disney World Visitors Reportedly Paid A Handicapped Guide To Help Them Cut The Lines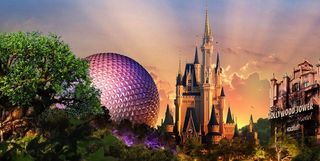 Disney World is known for going out of their way to make their parks clean, accessible and an enjoyable experience for all of their patrons - from secluded but accessible designated smoking spots to baby stations where parents can feed and change their young ones away from the hustle and bustle of the parks. There are also special entrances at the attractions for disabled visitors, and it sounds like some people have found a way to use that option to their advantage, even if they aren't technically traveling with a handicapped person.
The NY Post ran a story this week alleging that some wealthy families have been hiring a handicapped guide to take them around the Disney World parks and bypass the lines.
A person bound to a wheelchair or motorized scooter can bring up to six guests with them to the separate ride (or "attraction") entrance. That allows families to enjoy the ride together, and it's a great feature for those who really need it. These "black market Disney guides" reportedly get upwards of $130 an hour for their services, which offer access to the handicapped entrance and shorter line. That may seem pricy, but that's a bargain by comparison to the $310-380 Disney Tours charges per hour for the VIP guide and fast passes.
From what the Post says, the number of one particular rogue guide's services has been passed around among Manhattan's wealthy elite and the service requires a reference before they'll even take your call.
Assuming this report is true, one might argue that this accused guide (or guides) is merely doing a job any other paid guide can do, except they're doing it with a motorized scooter and their customers benefit from the access they get to handicapped entrances. Maybe that's how the guides have justified it, and that might also be the case for those shelling out the money to receive this added "benefit." But on the other hand, it does seem to be exploiting the handicapped entrance for financial gain, which is pretty terrible, and will likely be even more upsetting for those people who are actually handicapped or travelling with a handicapped person.
Disney World offers plenty of perks and upgrades at their parks and resorts for those visitors willing to pay more to get better accommodations, food and amenities. The FastPass feature in their tour is about as close as they probably get to allowing people with money to pay their way to the front of the lines. FastPasses are actually available for free to paying visitors for certain attractions. You pick one up at the front of the ride, you come back at the designated time. You get on the short line. But even that requires a bit of planning. These "rogue guides" can bypass that, and for those with the money, it's a worthwhile convenience to save them time and spare their kids the indignity of waiting on line with the common-folk.
But what can Disney even do about it, other than trying to keep an eye out for repeat visitors who show up each week with a different family? Given the flood of people who come into the park each week, that seems like an unlikely solution.
UPDATE: Disney Dream Tours has commented on the claims on their Facebook page, calling the accusations "horrendous" and stating that the story is false:
Kelly joined CinemaBlend as a freelance TV news writer in 2006 and went on to serve as the site's TV Editor before moving over to other roles on the site. At present, she's an Assistant Managing Editor who spends much of her time brainstorming and editing feature content on the site.
Your Daily Blend of Entertainment News
Thank you for signing up to CinemaBlend. You will receive a verification email shortly.
There was a problem. Please refresh the page and try again.