Wheel Of Time Author Robert Jordan Dies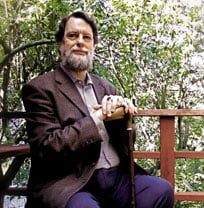 Sad news from the world of fantasy literature. Robert Jordan, known best as the author of the "Wheel of Time" series of books, died on the afternoon of Sunday September 16th after more than a year battling cardiac amyloidosis. The news comes from a message left on the author's blog.
The site says, "It is with great sadness that I tell you that the Dragon is gone. RJ left us today at 2:45 PM. He fought a valiant fight against this most horrid disease. In the end, he left peacefully and in no pain." Funeral arrangements will be posted later on the blog, and for fans interesting in sending his family their best wishes, the comments section on Jordan's there seems to be the place to do it.
Robert Jordan was a prominent voice in modern fantasy literature. The author's massive Wheel of Time series has long been a top seller, and with his death he leaves the series' twelfth book unfinished and his story painfully incomplete. It was the twelfth book which was supposed to end the series, finally finishing the story of Rand al' Thor and his friends, a finale in the making since the publishing of the first WoT book "The Eye of the World" back in 1990.
As someone who's read all eleven books, this hurts. Not just because now we'll never know how 17 years worth of character development ends, but because Jordan seemed like a genuinely good person who loved what he was doing and loved his fans. Right now my thoughts are with his family and friends, but from now on whenever I look at his spot on my bookshelf it'll always be to selfishly wonder what might have been.
Your Daily Blend of Entertainment News