Why Lindsay Lohan's Marilyn Monroe Impression Is Just Spooky And Sad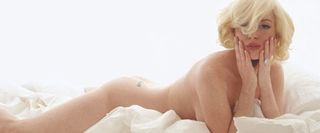 I promise I'm going to talk about Lindsay Lohan and her latest incremental slide away from respectability, but first, let's talk about Michelle Williams. The insanely gifted actress-- those are words we once used to describe Lohan, remember-- is winning raves for her performance in the upcoming My Week With Marilyn, in which she channels the late starlet in both her va-va-voom performances and fragile inner life. The movie occasionally slips up and buys into the played out myth of Marilyn the sexpot, but Williams firmly doesn't-- even when she's flirting relentlessly with her young assistant or signing autographs, WIlliams lets you see the human being underneath, reminding you at all time that her iconic status came at an enormous cost.
That kind of performance is pretty much the only Marilyn Monroe homage we need these days, nearly 50 years after Monroe's death and after we've seen any number of starlets follow the same bumpy road from stardom to paranoia to drug addiction to, sometimes, an early death. It's the road that Lindsay Lohan appears to be on herself, constantly in and out of jail and flirting with drugs and isolating herself from most of the people who ever believed in her. When Michelle Williams plays Marilyn Monroe, it's an interesting turn for an actress who has proven herself capable of many talents; when Lindsay Lohan mimics Monroe, as in a 2008 New York Magazine shoot, it's a spooky way of projecting the past on the soon-to-be-tragic present.
Which is why I can't possibly understand why Lohan has chosen to recreate Monroe again, this time in the pages of Playboy in a shoot that Hugh Hefner himself promises will be "classy, very classy." The photos apparently mimic the famous nude photos of Monroe taken by Tom Kelley in 1949, when Monroe was about to be let go of her contract at 20th Century Fox and was flat broke; she's said herself many times that she only did the photos for the money, and according to this memorabilia site, the $50 she was paid was the exact amount it took to get back her impounded car. The $1 million Lohan received for Playboy is obviously a much bigger payday, but probably also for the same reason: a starlet on the outs with Hollywood, left to rely on her body for cash.
It breaks my heart to see Lindsay Lohan to continue to fall apart year after year, but hearing that she's deliberately mimicking Marilyn Monroe again makes me wonder if she really doesn't get it. Why would a starlet in freefall choose to emulate another one whose career troubles spiraled into her death? Especially with Michelle Williams's more nuanced portrayal out in theaters, why would Lohan want to trot out a more shallow and tired take on Monroe? It makes me wonder if she even had any say in the matter, or if she showed up for the Playboy shoot as complacent and easily manipulated as the broke Monroe was in 1949: eager to please an industry that no longer wanted her, taking the cash and running.
LIndsay Lohan hasn't starred in a theatrically released film since 2007, and her last movie to get anything resembling good reviews was Bobby in 2006. But the $1 million payday from Playboy proves her name still means something, and when it comes time to crawl out of this muck, someone will still be interested. It was the same for Marilyn Monroe, of course, who kept working even when she was visibly falling apart. But Lindsay? Can we let the similarities end there? The more you try to emulate Marilyn, the more we're going to think you're actively rooting for your own untimely demise. There are at least a few of us left out here who are hoping for the turnaround Marilyn never managed to achieve.
Staff Writer at CinemaBlend
Your Daily Blend of Entertainment News
Thank you for signing up to CinemaBlend. You will receive a verification email shortly.
There was a problem. Please refresh the page and try again.