Wine Drinkers Beware: Study Says Climate Change Will Affect Grape Growth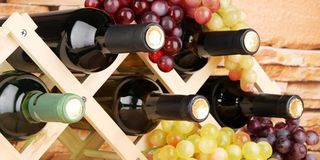 Whether you are the type of wine aficionado who orders the proper drink with the proper foods or simply like to have more than a glass during an evening meal, your favorite wines may have to come from a different location in the coming years. According to a new study published in the journal Proceedings of the National Academy of Sciences, changes in climate will affect the overall landscape of what is traditionally considered to be "wine country."
The study found that up to 2/3 of the winemaking landscape may change by 2050. That's still a ways away, but not so far off that it isn't worth talking about. Declines in wine production will occur in southern places like Chile, but also locations from Northern California's Napa Valley to Tuscany, Italy. The change is expected to occur slowly, but in the coming years it will be harder and harder to grow grapes without implementing expensive irregation efforts, etc.
In order to achieve these findings, the scientists related to the study collected data from 17 different climate models that looked at 9 different wine-producing areas. They then looked at two potential climate outcomes for 2050—a drastic outcome and an outcome with milder changes. Both future models, unfortunately, had bad things to say about potential climate changes. While it's seems probable that more "potential futures" could have been looked at, it also seems clear that at best case scenarios, some changes to wine countries will occur.
This isn't all bad news, however. Just because wine production must end in some areas doesn't mean wine production will diminish, overall. According to The Guardian, wine country might simply change locations. In the US, production could move further north and, elsewhere, changes in climate could simply cause a shift, as well. Assumedly, existing wineries could still stay in business if they invest in irrigation efforts and other expensive propositions; regardless, that might make certain bottles of wine a whole lot more costly to buyers.
Brad Pitt and Angelina Jolie's new winery may not have been as solid of an investments as the two celebrities believed it to be.
Photo Credit@ Shutterstock/ Africa Studio
Amazing Race & Top Chef superfan with a pinch of Disney fairy dust thrown in. If you've created a rom-com I've probably watched it.