The Mandalorian: What Were The Hyperspace Creatures Grogu Saw In The Season 3 Premiere? A Past Star Wars Series Has The Answer
This was a cool Star Wars Easter egg.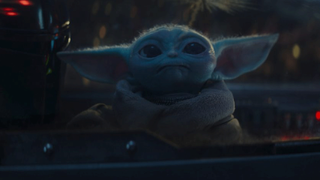 (Image credit: Disney)
Warning: SPOILERS for The Mandalorian Season 3 premiere, "The Apostate," are ahead!
While The Book of Boba Fett brought back Pedro Pascal's Din Djarin and Grogu last year, it hasn't been since December 2020 since this popular Star Wars duo were seen leading their own story. But now that's been rectified with the premiere of The Mandalorian Season 3, titled "The Apostate." There was a lot for Disney+ subscribers to absorb in this first episode back since the Season 2 finale "The Rescue," including the (partial) return of IG-11 and an explanation for why Gina Carano's Cara Dune wasn't around. And then there was an especially cool moment involving Grogu and some gigantic hyperspace creatures, ones that Star Wars Rebels fans know quite well.
After their visit with The Armorer, Din Djarin and Grogu headed to Nevarro to reunite with Carl Weathers' Greef Karga on Nevarro, as they required his help in reactivating IG-11, with Din feeling that was the only droid he could trust to aid him on his mission to Mandalore. Before reaching their destination, Din used the hyperspace trip to catch up on some sleep, but Grogu was initially too transfixed by a spectacular sight to join him in resting. Thus far in live-action Star Wars media, we've only seen ships be able to make the jump to light speed, But Grogu witnessed creatures doing that every thing on their own, and they were quite majestic. After getting his fill of these silhouetted beings, Grogu moved to the cockpit of Din's customized N-1 starfighter to hang out with his surrogate father (not unlike the kind of character Pedro Pascal plays in The Last of Us) for the rest of the trip.
These creatures are called purrgil, and they were introduced to a galaxy far, far away in Star Wars Rebels. Purrgil are able to travel through hyperspace by simu-tunnels, a.k.a. hyper tunnels, and in fact, it was the purrgil that inspired sentient beings to create lightspeed technology. Unfortunately, purrgil have the habit of flying into starships when they're going through hyperspace, and there have also been instances of people crashing into swarms of them.
Following their first appearance in the Star Wars Rebels episode "The Call," purrgil played an integral role in the animated show's two-part series finale, "Family Reunion – and Farewell." Having formed a connection with these creatures with the Force, Ezra Bridger called on the purrgil to help destroy Grand Admiral Thrawn's fleet and forcibly transport the antagonist's Star Destroyer, the Chimera, to parts unknown. Ezra was on board the Chimera with Thrawn when this happened, so as a result, both he and Thrawn have been missing since Rebels concluded.
The purrgil's inclusion in The Mandalorian's Season 3 premiere made for a nice Star Wars Rebels Easter egg, but I suspect there was another reason we saw them. Among the things we know about the upcoming Ahsoka spinoff is that it will follow the title character, played by Rosario Dawson, and Natasha Liu Bordizzo's version of Sabine Wren continuing their quest to find Ezra Bridger, who will be played by Eman Esfandi. Whether or not they're successful remains to be seen, but perhaps the purgill were shown in The Mandalorian so that Star Wars fans who check out Ahsoka, but didn't watch Star Wars Rebels, are familiar with them in case there's a flashback/live-action recreation of the moment when Ezra and Thrawn were taken away by them.
Should that unfold whenever Ahsoka is airing, we'll let you know. Until then, keep visiting CinemaBlend for The Mandalorian Season 3 coverage, and watch new episodes Wednesday on Disney+.
Your Daily Blend of Entertainment News
Connoisseur of Marvel, DC, Star Wars, John Wick, MonsterVerse and Doctor Who lore. He's aware he looks like Harry Potter and Clark Kent.