Netflix's Dahmer Creator Ryan Murphy Claims The Show Actually Did Attempt To Get Input From Victims' Families
Amid Dahmer criticism, Ryan Murphy says they tried to get input from the victims' families.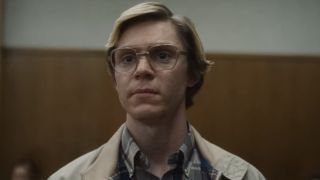 (Image credit: Netflix)
In the weeks since Monster: The Jeffrey Dahmer Story has been released, intense popularity and criticism has followed. While those with a Netflix subscription kept it in Netflix's Top 10, and in the No. 1 spot for a while, there is also a lot of criticism surrounding the true crime story. A lot of the controversy is in regard to how the family of Dahmer's victims feels about the show. Now, its creator Ryan Murphy is speaking up, saying they did try to get input from the victims' families.
Both Murphy, the creator, and Evan Peters, who plays Dahmer, have spoken about trying to tell the story of the victims. Rather, they wanted to shine a light on the serial killer's "unconscionable crimes" and show how "underserved victims and their communities" were "impacted by the systemic racism and institutional failures of the police," the show's description, via THR, says. THR reported that Murphy spoke about the process of creating the show, and said at an event:
Along with what he said about the research they did for the show, Murphy also spoke about the goal of Dahmer, saying:
While the creatives behind the series have spoken about the caution and care they put into making it, Dahmer has been called out by many, and has become a fairly large controversial topic. Many have spoken out against the show including Rita Isbell, the sister of one of Dahmer's victims. She noted that she was never contacted about the show. Along with her, Shirley Hughes, the mother of one of the victims said she couldn't see why or how the show was able to use their names.
Other people, including the journalist who broke the story as well as people who worked on the show, and friends of the victims have spoken out against it. Most recently it was reported that Dahmer's father was allegedly thinking about suing Netflix over the limited series, saying he was never contacted about the show.
The controversy around this show seems to grow every week. Now with Murphy saying they tried to contact family members of Dahmer's victims with no response the situation around the show has grown more complex.
Riley Utley is a Weekend Editor at CinemaBlend. She spent many years working in local journalism across the country writing about art, news and sports. One of her favorite films is When Harry Met Sally and she walks around constantly quoting Ted Lasso.
Your Daily Blend of Entertainment News
Thank you for signing up to CinemaBlend. You will receive a verification email shortly.
There was a problem. Please refresh the page and try again.