Ranking All The Disney+ MCU Shows So Far, Including Hawkeye
There were five MCU shows this year, but which one was the best? Well, you're about to find out.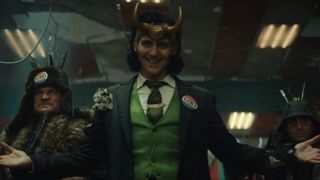 (Image credit: Disney)
Whoo, what a first year for Disney+ Marvel TV shows, am I right? When the streamer rolled out its 2021 plans for the MCU, it seemed pretty crazy to think that we would get not one, not two, but FIVE Marvel TV projects, but here we are, spoiled beyond belief this year, while the Star Wars fans got rather slim pickings in comparison (Sorry! The upcoming Star Wars movies and TV shows should make 2022 much better). In 2021, Marvel fans got (ahem) WandaVision, The Falcon and the Winter Soldier, Loki, What If…?, AND Hawkeye. I mean, can it really get any better than that?
Well, actually, maybe it can, because some of the MCU projects were much better than others. While I do love and appreciate that we got a pretty steady stream of Marvel content to keep us occupied throughout the year, I have to admit that some shows made me eagerly anticipate each new episode, while others felt like a total chore to sit through. But, which shows were they? Well, you're about to find out.
Oh, and some spoilers up ahead for these shows if you haven't watched them yet.
5. What If…?
I have to tell you. Out of all the disappointments this year from the MCU (aside from Black Widow), What If…? was the absolute greatest. It's mostly because it was the one that I was the most looking forward to. I grew up reading the What If? comics as a kid, and was always excited by what seemed like the limitless possibilities. The problem with the What If…? TV show is that it actually felt quite limited. The reason for this should have been obvious, but I didn't see it at the onset. The storylines had to stay within the parameters of what was already told within the MCU. It couldn't deviate in any way.
This, of course, meant that we couldn't get any stories concerning characters like the X-Men, the Fantastic Four, or any of the other Marvel characters who had such interesting stories in the old What If? comics. That said, this wouldn't have been such a problem if the stories that were told within the TV series were actually told well. The problem was the execution. A storyline like "What If…Killmonger Rescued Tony Stark?" or "What If…the World Lost Its Mightiest Heroes?" should have been slam dunks, and I don't know if it was the poor pacing or what, but they just didn't land for me.
I did like that all the episodes came together toward the end for the finale, which I didn't see coming, and the "What If…Zombies?!" episode felt pretty refreshing (Oh, and we can't forget that the "What If…Doctor Strange Lost His Heart Instead of His Hands?" episode looks to play a part in the new Dr. Strange movie). Otherwise, this show felt like a bit of a misstep in an otherwise strong year.
4. The Falcon and the Winter Soldier
Here's the thing. The Falcon and the Winter Soldier had a REALLY strong middle. What I mean by that is, out of the six episodes of the season, I'd say that Episodes 1 and 2 were kind of mediocre, Episodes 3-5 were EXCELLENT, and the final episode, "One World, One People" was a massive disappointment. This created a lopsided experience that was both unsatisfying and also incredibly frustrating.
I loved the race issue that was introduced in the series, as well as how it was such a massive shift from the bizarre first MCU show, WandaVision. But, ultimately, it was a show that had a lot of promise and very little payoff in the end. Shame.
3. Hawkeye
The show that I don't think anybody asked for turned out to be a delightful little holiday treat. Hawkeye, which starred both Hailee Steinfeld and Jeremy Renner as protégé and teacher, respectively, delivered in both the comedy and action department. In the end, it became a pretty middle-of-the-road, but enjoyable, way to cap off the MCU's interesting year on Disney+.
That said, I have to be honest with you. It took a while for Hawkeye to really grow on me. I found the humor a little cringy at first, with the LARPers and the Tracksuits, and I was a little disappointed that the OG Hawkeye seemed to be a side-character in his own show. But, Hailee Steinfeld grew on me as Kate Bishop, and by the final episode, I found myself all in with the new characters, like Echo, and Jack Duquesne (a.k.a., Swordsman), who turned out to be a good guy after all, which was a nice switcharoo since he's a villain in the comics. Overall, a good, if inconsistent, time.
2. WandaVision
I'm a weirdo. While most people will likely tell you that WandaVision didn't pick up until about Episode 4, when we started to learn what was actually going on with the Westview Anomaly, I was actually SUPER into the show when we didn't know what was going on. The show was creepy, bizarre, and unlike anything the MCU had ever done in the past in those first three episodes. It seemed really Lynchian in nature, offering more mystery than answers, and for a time, it was my favorite thing the MCU had ever done.
But then, it started to become more and more like your typical MCU production. Sure, going through different decades of sitcom history with each episode was different, but the more Wanda started to become the Scarlet Witch, the more it felt like it was just setting up the next big project, and that's when I began to lose interest. Also—and it's only partially the show's fault after that whole Quicksilver fake-out—but all the IS THIS MEPHISTO??? speculation became super annoying by the end of it all. Overall, a fascinating venture into what an MCU television series could actually be, that was almost perfect.
1. Loki
Out of all the MCU shows in 2021, Loki is the only one that I think was consistently great all the way through. Tom Hiddleston, Sophia Di Martino, Owen Wilson, and Gugu Mbatha-Raw as Loki, Sylvie, Mobius, and Ravonna, were incredibly compelling throughout, and each episode unraveled the mystery even more, making me ravenous to find out what would happen next, week by week. The whole concept of the TVA (Time Variance Authority), is just fascinating to me, and this is an instance where I love how the storyline connects to the rest of the MCU when it comes to the split timelines.
And man. Man, oh, man, this was the best ending of an MCU series by far, with the introduction of Jonathan Majors' Kang the Conqueror. After WandaVision trolled us with the Quicksilver fake-out, there was doubt about whether Kang would really make an appearance on Loki. When he finally did, he was fascinating all the way through, with his death creating such crazy (and exciting!) ramifications for the entire MCU's future. No doubt about it, Loki was the best MCU show to come to Disney+ in 2021.
For news on upcoming Marvel movies, or all the Marvel movies ranked, or even a guide for the Marvel movies in order, make sure to (web) swing by here often!
Your Daily Blend of Entertainment News
Rich is a Jersey boy, through and through. He graduated from Rutgers University (Go, R.U.!), and thinks the Garden State is the best state in the country. That said, he'll take Chicago Deep Dish pizza over a New York slice any day of the week. Don't hate. When he's not watching his two kids, he's usually working on a novel, watching vintage movies, or reading some obscure book.