Suicide Squad Director David Ayer Shares One Big Thing He Regrets About Jared Leto's Joker
David Ayer didn't like one specific thing about the Joker.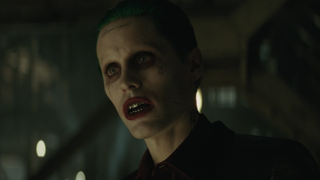 (Image credit: Warner Bros.)
Even seven years after its release, people are still talking about Suicide Squad, specifically Jared Leto's controversial performance as the Joker. While the iconic villain didn't get enough time to shine in the DC movie the actor's actions on set, and the creative choices made about his look have been questioned and debated for a while. While the director of the movie, David Ayer loves his movie dearly, he has also admitted that there is one thing about Leto's Joker that he regrets.
While Ayer defends Jared Leto's Joker and Suicide Squad for the most part, he did admit that Joker's face tattoo that says "damaged" was a mistake. The director posted on Twitter:
This conversation was sparked on Twitter after Ayer defended Leto's performance after Andrew Karam commented on a behind-the-scenes photo of the actor with:
Ayer respectfully responded to the viewer who did not like Leto's take on the Joker, writing:
Another fan simply asked Ayer about the "Damaged" tattoo in the comments, and the director responded, saying it's the one thing he wished he wouldn't have done. However, for the most part, he liked what Leto did with the Joker, the big bummer was how much of his story they ended up cutting out of the DC movie.
Leto's odd comments about the Joker, his performance, and his look in Suicide Squad have been highly controversial, and are still talked about all these years later. However, Ayer has mentioned time and time again that a big reason the movie and Leto's performance are so criticized is that a lot of Joker's scenes were cut from the film.
Fans have wanted an Ayer Cut of Suicide Squad for a while now, especially considering how much of Suicide Squad was left of the cutting room floor after Warner Bros. allegedly got their hands on the movie. Even The Suicide Squad and Peacemaker's John Cena said that it's "in the company's best interest to listen to their audience," and implied that if there is a demand for Ayer's movie, they should release it. However, it seems like if they were to release an Ayer Cut they might take out Leto's face tattoo, based on the viewers' and the director's negative opinions about the word "damaged" being on Joker's face.
I think it's safe to say that if Jared Leto's Joker ever comes back into the DC universe he will not have "damaged" tattooed on his forehead. However, who knows if the actor will ever return as the legendary villain with DC's big shakeup and new leadership. As more news comes out about the future of DC and Ayer's comments about Suicide Squad, we'll be sure to keep you posted. In the meantime, you can go back and watch the DC movies in order, and be sure to keep an eye on the upcoming superhero movies to see what's coming out next from the studio.
Your Daily Blend of Entertainment News
Riley Utley is a Weekend Editor at CinemaBlend. She spent many years working in local journalism across the country writing about art, news and sports. One of her favorite films is When Harry Met Sally and she walks around constantly quoting Ted Lasso.