10 Orange Is The New Black Characters We Want To Know Better In Season 3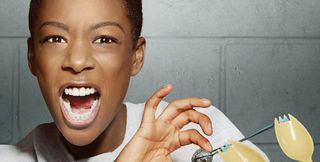 While some Orange is the New Black fans are surely trying to pace themselves, enjoying one episode at a time and trying to make all of that orange goodness last, some of us aren't quite as patient. By this point, fans who took the binge-watch route may have already made it through the second season, by which point we're ready to start talking about the third. Yes, Season 3 is definitely happening and no, it's not too soon to start talking about it. Unless you haven't finished Season 2, in which case SPOILERS ahead!
The second season of Orange is the New Black allowed us to get to know some of the inmates a bit better, but we still want more! After finishing Season 2, we're left with an appetite for more information on quite a few characters, either because they still haven't gotten their own episodes, they weren't around much in Season 2, or they were but proved to be even more interesting, making us want to know them better. Here are ten characters we hope to get to know even better in Season 3! (Once again, if you haven't finished Season 2, read no further! Spoilers ahead!)
Brooke Soso
Has not had her own episode yet.
New to Orange is the New Black in the second season, Soso arrived as kind of a flaky, possibly privileged girl, who turned out to be kind of a major hippie, refusing to eat meat and engaging in hunger strikes. Her interest in activism could be what led her to her incarceration, but that's just a guess, as we know almost nothing about her background, beyond the fact that she's a chatty-Cathy whose mouth somehow didn't manage to get her into major trouble in Season 2. Let's see some Soso flashbacks in Season 3!
Poussey Washington
Has had at least one featured episode.
Samira Wiley has been promoted to series regular for Season 3 of Orange is the New Black, so hopefully that means Poussey will have an even bigger presence in the third season. With that said, it was great getting to know her better in Season 2, as Poussey had her own episode, revealing that she's bilingual, is a military brat with a (seemingly) supportive father, and nearly attacked her father's military boss (indicating she might have some violent impulse control issues). Poussey's friendship with Taystee hit a rough patch in Season 2, but it looked like they were on the road to recovery by the end. We can't wait to see what's next for Poussey, and hopefully learn more about her background leading to her going to prison.
Carrie "Big Boo" Black
Has not had her own episode yet.
Big Boo's been around from the beginning, providing laughs, intimidating people and enhancing the entertainment value of every scene she's in. It's time she got her own episode! We know Big Boo is a lesbian, that she has an awkward history with a dog, and that she has some serious snitch tendencies. But who is Carrie Black? What happened in her life that led to her ending up in prison? We're ready to know.
Sophia Burset
Has had at least one featured episode.
We got to know Sophia fairly well in Season 1. Unfortunately, Laverne Cox's character wasn't around nearly as much as we would have liked in Season 2. Hopefully Season 3 will spend a bit more time in her salon and maybe give her more to do than just gossip, offer advice and teach women about their lady parts. Admittedly, that was one of the humorous highlights of the season. More Sophia please!
Leanne Taylor
Has not had her own episode yet.
Thanks to her fallout with Pennsatucky, we got to know Leanne a bit better as her own person and not just one of Pennsatucky's followers. But Leanne has yet to have her own featured episode, and Season 3 might be the right time for that. What's her criminal history? Does it involve drug abuse or is it something completely random? I kind of like the idea that Leanne's in prison for either something really random, like mail fraud, or she took the fall for someone, which I can kind of picture.
Maritza Ramos and Marisol "Flaca" Gonzales
Have not had their own episodes yet.
There's untapped potential in the Maritza and Flaca duo. Ok, technically they're two separate characters with two separate histories, but since they're often seen together, we're combining this item on the wish list. We'd even settle for an episode that splits its focus between the two of them and features flashbacks of both. We just want to know who these girls are before they became friends. We know Flaca knows a thing or two about grammar, fashion and heavy eye makeup, and we know that Maritza is a stand-out beauty among her other inmates. We also know they tried making out. But who are these women? How did they end up in prison? We need to know.
Suzanne "Crazy Eyes" Warren
Has had at least one featured episode.
We learned quite a bit about Crazy Eyes in Season 2, including that she lost it and beat Piper up right after Piper beat Pennsatucky up. We also know she grew up dealing with a lot of pressure due to the expectations of her loving adoptive mother. And it's probably fair to say that Crazy Eyes' mother issues led to her misplaced loyalty toward Vee. How's she going to come back from all of that, especially now that Vee's gone? We don't know, but we can't wait to see!
Norma Romano
Has not had her own episode yet.
Honestly, what is the deal with Norma? She seems like such a nice, timid woman. Of course, she's been in prison for a while. Who knows how much of her behavior is the result of time served and how much was established during her pre-prison years? That's exactly why we need to know more about Norma. She doesn't talk much, she's loyal to Red and she has an amazing singing voice. She's also willing to try to poison Vee, though she didn't have nearly enough appleseeds to get the job done. Who was she before she arrived in prison?
Alex Vause
Has had at least one featured episode.
Laura Prepon's screen time was diminished drastically in Season 2, due to Alex being released from prison. But all signs point toward Alex returning and Prepon has confirmed that she will be back for all 13 episodes of Season 3! More Alex please! That seems inevitable, and it's hard to even ask for more Alex, considering we know more about her than most of the other inmates. However, we'd really love to see more of the pre-Piper Alex flashbacks. Anything from her youth or the years leading up to meeting Piper would be fascinating.
Nicky Nichols
Has had at least one featured episode.
Natasha Lyonne's character got plenty of screen time in Season 2, but there was no Nicky episode this season. Based on what we know of Nicky, she comes from money and has some addiction issues. She's sharp, funny, capable and sensitive. She's also a big fan of the ladies, proving to be more sexually active than ever in Season 2. We're pretty sure there's a lot more to her story than what's been told though, so hopefully we'll get a better read on her, including the specifics on the situation that got her put in prison, when Season 3 debuts.
BONUS: Here's someone we love but don't want to see again.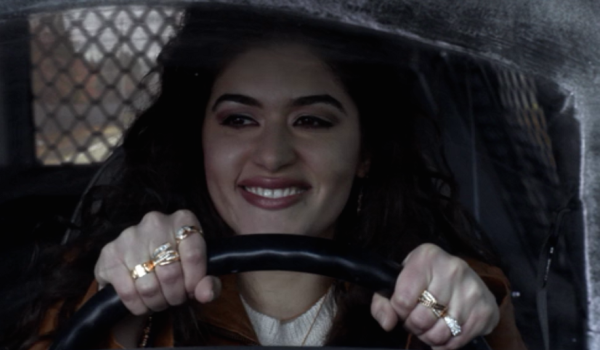 Rosa Cisneros
Has had at least one featured episode.
Season 2 brought Rosa to the forefront as she dealt with her cancer treatment and befriended a kid also fighting cancer. We also learned that Rosa believes she's cursed after two of the men she was robbing banks with died immediately following the crime and "after kiss." In the Season 2 finale, Rosa learns that she only has weeks to live, and when Lorna encourages her to take the van and go, Rosa does. Her last criminal act takes place on the road outside the prison, as she spots Vee, also making a break for it, and promptly runs her over. That's what Vee gets for being rude to Rosa!
We loved getting to know Rosa, but we're also hopeful that the above image of her, looking young and beautiful again, is the last we see of her. Cancer is a truly awful death sentence, but even with her terminal diagnosis, Rosa managed to make her exit on a high note. We like to imagine she managed to escape the police who are pursuing her, maybe she knocked over a bank on her way out of town and has since made her way to parts unknown where she will live out her remaining weeks on her own terms. It's as happy an ending as she'd probably have.
Your Daily Blend of Entertainment News
0
Assistant Managing Editor
Kelly joined CinemaBlend as a freelance TV news writer in 2006 and went on to serve as the site's TV Editor before moving over to other roles on the site. At present, she's an Assistant Managing Editor who spends much of her time brainstorming and editing feature content on the site.
Your Daily Blend of Entertainment News
Thank you for signing up to CinemaBlend. You will receive a verification email shortly.
There was a problem. Please refresh the page and try again.