10 Sweet Marvel References In Jessica Jones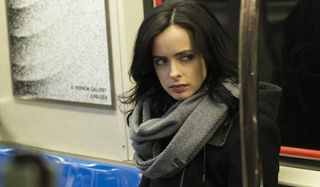 Warning: spoilers for all of Jessica Jones Season 1 are ahead!
This past Friday, Netflix released Season 1 of its latest Marvel show Jessica Jones, starring Krysten Ritter as the eponymous antagonist who tries to defeat the mind-controlling Kilgrave (played by David Tennant) with the help of Luke Cage (played by Mike Colter), Trish Walker (played by Rachael Taylor) and more. The series has already been critically lauded for its dark storytellling and multi-faceted characters (especially Jessica and Kilgrave). However, beyond its story and main players, the show also has an abundance of things Marvel loves to toss around: Easter Eggs.
Just like Marvel's other projects, there are plenty of references from the House of Ideas' lore sprinkled through Jessica Jones's first season, be it an element from the original comics stories to other areas of the Marvel Cinematic Universe. We've gone through the list and narrowed down ten major Easter Eggs that you may have missed while you were recently binge-watching the show. Take a look!
Jessica's Costume And Codename
Jessica didn't get the chance to become a full-fledged superhero like her comic book counterpart, but she came close. In the Episode 5 flashbacks, following Jessica's decision to start using her powers for good, Trish showed her a costume she could wear out in public, which matched the same white and blue outfit Jessica wore in the comics. Unfortunately for Trish, the eponymous protagonist dismissed it as something worn on Halloween or during kinky roleplay. She also dismissed the codename Jewel as a stripper name, so if Jessica had ended up becoming a crimefighter, she would have rocked a different moniker.
Luke Cage's Catchphrase
One of Luke Cage's defining traits in the comics is shouting "Sweet Christmas!" as a substitute for any actual swear words. Still, the line obviously sounds ridiculous, so fans questioned whether it would actually be heard on the dark and gritty Jessica Jones. Surprisingly, the show managed to fit in the catchphrase in a seamless way, only it wasn't while Luke was punching some bad guys. No, he uttered the infamous line after one of his sexual encounters with Jessica. Maybe he thought Christmas came early…
Nuke
There was always something off about Will Simpson, even after Kilgrave's control over him faded away. The guy had a weird attitude on life, and his efforts to take down the mind controller were often at odds with what Jessica had planned. However, once he started taking those multicolored pills, it became clear who he was meant to be. Will is an adapted version of the character Frank Simpson, a.k.a. Nuke, who was a soldier enhanced by cybernetics and psychological conditioning at the cost of his sanity. Just like in the comics, the performance-enhancing pills on the show were colored red, white and blue, which is especially fitting given Nuke's deranged patriotism, seen primarily by his America Flag-tattooed face. Should Jessica Jones be renewed for Season 2, we'll learn more about the IGH organization that Will is connected to and who may be behind Jessica's powers.
The Patsy Comic Book
Hardcore comic book fans know that Trish Walker is also known as Hellcat on the printed page. However, decades before she became a crimefighter, "Patsy" Walker was a recurring character in several teen humor books, and eventually she got to lead her own series. Jessica Jones touched repeatedly on how Trish had been the childhood star of the TV series "Patsy Walker," and her fame extended into other forms of media. When Trish's fan approached her and Jessica in Episode 3, he was carrying a modern-day recreation of the real life 1950's Patsy Walker #26. Too bad the guy didn't get the autograph he wanted; just a punch when he was mistaken for a Kilgrave drone.
Angela del Toro
In Episode 6, Luke approached Jessica with helping him find the brother of a woman who has information he needs about his wife's murder. At first, Jessica didn't want to get involved and tried to refer him to another private investigator named Angela del Toro. In the comics, Angela is the superhero known as White Tiger. Thanks to a mystical amulet, her physical attributes (strength, speed, agility, etc) are enhanced to superhuman levels, and she can also camouflage herself when necessary. Should Marvel expand its roster of street-level heroes, Angela might make a good addition.
Stan Lee's "Cameo"
While Stan Lee has cameoed in all the MCU movies, Agents of S.H.I.E.L.D. and Agent Carter, he didn't stop by Jessica Jones. Fortunately, his presence was still felt as the series decided to borrow a play out of fellow Netflix show Daredevil's book. When Kilgrave took over the police station in Episode 7, we saw all the mind-controlled cops who have guns pointed at their colleagues and other visitors at the station. When the camera lingered on two seated victims, there's a photo of Lee as a police officer in the background. That's the same photo that was seen at the police station earlier this year in Daredevil. So even though the actual Marvel creator was nowhere to be seen, take comfort knowing that Officer Lee is performing his duties elsewhere.
Alias Investigations Exit
While it wasn't the first scene in Episode 1, Jessica Jones' first notable moment was when viewers saw her consulting with a client in her office. After she delivered photos of the man's cheating wife, he immediately freaked out and started accusing Jessica for taking pleasure in his pain, When things got rough, she threw him through her office door and dryly said, "And then there's the matter of your bill." It was certainly a badass moment, but it was also an exact recreation of he first scene in Alias #1, the first issue of Jessica's comic book series. Not a bad way to kick the show off at all, though this wouldn't be the last time Jessica would have to deal with a broken front window.
Brett Mahoney
We talked earlier about the police station takeover scene in Episode 7, but Jessica, Kilgrave and Detective Clemons weren't the only familiar faces we noticed. Also in the room was Brett Mahoney, who was the one pointing the gun at Clemons. If the name doesn't ring a bell, Mahoney was seen earlier this year in Daredevil Season 1 as Foggy Nelson's friend on the police force. Before Jessica Jones, we last saw him in the Season 1 finale, when he was the one who first saw Daredevil after he beat Wilson Fisk to a pulp. Mahoney's presence is another reminder that these Marvel Netflix shows all take place in the same New York neighborhoods.
Kilgrave's Yacht
For such an eventful finale, the name of the yacht that Kirlgrave tried to escape on was remarkably unspectacular: Goldfish. Well, it turns out the crew didn't name the boat after the first pet they spotted in the room. Years before he created Jessica Jones and Alias, comic mastermind Brian Michael Bendis wrote a crime series called A.K.A. Goldfish for Image Comics. It's been over two decades since the series came out, but it was cool that they threw a nod to one of Bendis' earlier works during the climactic showdown between Jessica and Kilgrave…even if it was extremely obscure.
Claire And Her "Friend"
Earlier this year, Rosario Dawson debuted as nurse Claire Temple on Daredevil, and soon after, it was announced she signed a deal allowing her to appear on Marvel's other Netflix shows. Well, promise delivered, as fans got to see her in the Jessica Jones Season 1 finale when Jessica took Luke to her hospital. Claire was just as surprised as her colleagues when the needles wouldn't pierce Luke's skin, though she did admit to Jessica it wasn't her first experience with powers. She later helped Jessica smuggle Luke out of the hospital, and when Jessica went to confront Kilgrave one last time, Claire kept an eye on the P.I.'s unconscious lover. Before Jessica left, Claire brought up that she had a "friend" who could help her out, but Jessica didn't want anyone else to get hurt. For those of you who didn't watch Daredevil, Claire was referring to its lead protagonist Matt Murdock, whom Claire was briefly involved with during the season. Both characters will be seen again next year when Daredevil Season 2 premieres.
Your Daily Blend of Entertainment News
Connoisseur of Marvel, DC, Star Wars, John Wick, MonsterVerse and Doctor Who lore. He's aware he looks like Harry Potter and Clark Kent.
Your Daily Blend of Entertainment News
Thank you for signing up to CinemaBlend. You will receive a verification email shortly.
There was a problem. Please refresh the page and try again.