5 Ways Jessica Jones Can Get Even Better In Season 2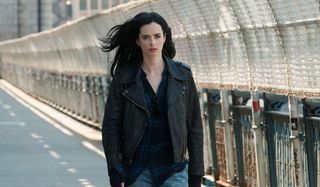 Following in the footsteps of Daredevil was no easy task, but Jessica Jones most certainly proved to be up for the challenge. Driven by a group of absolutely fantastic performances from a wonderful ensemble, the new series delves into yet another tonal shade of the Marvel Cinematic Universe while also introducing some awesome and important characters. As much as we enjoyed it, however, there are things that can be done in Season 2 that could make it even better than the first.
At this time, we don't actually know if Jessica Jones will be getting a second season, but we're certainly hopeful that it will, and have a specific wish list of things that we want to see play out in future episodes. Read on for our thoughts, and leave your own in the comments section at the end!
SPOILER WARNING: The following contains major spoilers for the first season of Jessica Jones. If you haven't watched the entire series just yet, you may want to click away to another one of our wonderful articles.
Get Looser With The Serialized Storytelling
In Season 1 of Jessica Jones, there is a very clear story that the filmmakers want to tell with the saga of Kilgrave, and they launch into it from the very first episode. It makes for dynamic television, and the introduction of one of the Marvel Cinematic Universe's best villains, but if there's one defined problem with it, it's that it doesn't quite fully capitalize on everything that the Jessica Jones character has to offer a television series.
In reality, Kilgrave wasn't actually a central focus of Brian Michael Bendis and Michael Gaydos' Alias comics, not being presented as part of the former hero's backstory until late in the run. Instead, the series was initially created to tell detective noir stories with a superhero angle – and this is something that should be fully explored in Season 2. The final moments of the season finale suggest this is a direction that the creatives are looking in for future episodes, as Jessica suddenly finds her voicemail filled with inquiries for her private eye services, and it's something to which they should commit.
Bring White Tiger Into The Mix
In the beginning of episode six, titled "AKA You're A Winner," Luke Cage tries to hire Jessica Jones for a case – but in her hesitance to reveal anything about her past connection with the unbreakable hero she instead refers him to someone else, specifically a woman named Angela Del Toro. To anyone not familiar with Marvel Comics – specifically Brian Michael Bendis' run on Daredevil - this name is surely meaningless, but in reality it's a namedrop that should most definitely be explored in Jessica Jones (opens in new tab) Season 2.
It seems that in the Marvel Cinematic Universe Angela Del Toro is a rival private investigator, but her comic book counterpart is an FBI agent who discovers that she has long been destined to take up the mantle of the White Tiger – a hero with superhuman physical attributes provided by a special amulet that has been passed down for generations. Given the amount of potential in both seeing the character's arc as well as introducing another female superhero in the MCU, it would be ridiculous just to leave this as a hanging Easter Egg with no payoff.
Keep Trish Walker On The Superhero Path
Jessica Jones has already done a fantastic job of adapting Trish Walker's very strange comic book history into the show – the character having actually been created for the pre-Marvel, Archie-esque romantic comedy series "Patsy and Hedy" – but in Season 2 the creatives behind the show definitely need to guide her through the rest of her arc. Because while "Patsy" Walker was first introduced as a silly teen girl trying to decide which boy to date, she eventually becomes the badass hero known as Hellcat.
Walker was reintroduced to the Marvel Universe in a 1975 issue of The Avengers, where she joined Hank McCoy (a.k.a. Beast) on a mission with Earth's Mightiest Heroes. Borrowing a costume that grants her powers from a former hero called the Cat, she threw on a mask and joined the vigilante game. Given how great Rachel Taylor is as Trish in Jessica Jones Season 1 – and how her superhero potential is teased after taking one of Nuke's pills – it would be great to see her become a legit masked hero in Season 2.
Don't Make The Entire Season About I.G.H.
There are many threads introduced towards the end of Jessica Jones Season 1 that we fully expect to be picked up in the future – and one of the most significant is the introduction of the organization known simply as I.G.H. Not only are they the people who turn Sgt. Simpson a.k.a. Nuke into a pill-popping adrenaline-pumped psycho, but it's also revealed that they may be the people behind Jessica's post-car accident abilities. This is most definitely a plot line that should exist in Season 2, but it should most definitely not be central focus of the seasonal arc.
There are actually many reasons not to make Jessica Jones Season 2 with I.G.H. at its center. For starters, not every single superhero origin story needs to be explained in depth – as repeating that format is only going to bore audiences. Even the show's titular character doesn't seem to care all that much about it (otherwise she probably would have been investigating I.G.H. years ago). Additionally, it's predicted that the first season of Luke Cage will go in depth in regard to how he got his unbreakable skin – so having a similar plotline in the second season of Jessica Jones will just feel repetitious.
Give Us More Of The Shared Neighborhood
While most of you probably acknowledged the return of Rosario Dawson's Claire Temple in the finale as a callback to Daredevil, she's actually not the only character from the debut Marvel Netflix series that appears in Jessica Jones. Sgt. Brett Mahoney, as played by Royce Johnson in six episodes of Daredevil, also makes an appearance, escorting Jessica out of interrogation after she hand delivers Ruben's head to the cops. It's a fun cameo that reminds audiences that the two shows share a neighborhood, and we want more like it in Season 2.
The possibilities here are really endless. Maybe we see a familiar clerk from a familiar bodega show up while Jessica is getting a snack. Perhaps she interrogates a notable thug who we previously saw getting grilled by a certain blind vigilante. Of course, these little cameos wouldn't be as cool as, say, introducing an Avenger, but just showing off the shared neighborhood makes the world feel that much bigger – and that's exactly the joy of the Marvel Cinematic Universe on the whole. The community is only going to get larger with the introduction of both Luke Cage and Iron Fist, so keeping them all connected is key.
Your Daily Blend of Entertainment News
Assistant Managing Editor
NJ native who calls LA home and lives in a Dreamatorium. A decade-plus CinemaBlend veteran who is endlessly enthusiastic about the career he's dreamt of since seventh grade.
Your Daily Blend of Entertainment News
Thank you for signing up to CinemaBlend. You will receive a verification email shortly.
There was a problem. Please refresh the page and try again.