11 TV Actors Who Will Never Be As Famous As They Were In The '90s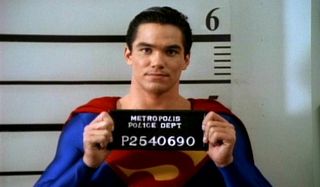 The 1990s were a magical time, weren't they? It was the decade of both Tupac and N'Sync, of both Pogs and Discmans, of both T-1000 and the Iron Giant. But most importantly for our purposes, the '90s were the decade where television really blew up, as both widespread use of VCRs and cable/satellite broadened how people could get immersed in the boob tube. Unfortunately, the proliferation of popular TV series necessarily meant that not all of the people involved in those shows would be able to find the same kind of success in the future.
And so, here are 11 actors and actresses that will (almost definitely) never again reach the same heights of fame that they did during that most grunge-worthy decade. Not that we're saying it's a bad thing by any means, as only the most relatively minute number of people can boast a TV stint putting them front and center in many millions of people's homes.
Jonathan Taylor Thomas
What He's Famous For: While millions of people annually enjoy Jonathan Taylor Thomas' work as young Simba in The Lion King, his most noteworthy piece of live-action acting came during the eight-season run of the hit sitcom Home Improvement, where he played the brainy and sarcastic middle child Randy. And his most noteworthy piece of still-action was being on the cover of literally every teen magazine printed during those years.
What's Happened Since Then: Jonathan Taylor Thomas' acting career got much more spotty in the 2000s and beyond, as he appeared in random episodes of The Simpsons, Veronica Mars and 8 Simple Rules. His biggest mark has been made reuniting with Tim Allen for the ABC sitcom Last Man Standing, for which Thomas has also done some episode-directing.
Gabrielle Cateris
What She's Famous For: Though she appeared on quite a few shows in the 1990s, there is basically one role that you'll know Gabrielle Cateris from, considering she played it for almost the entire decade. The actress starred as the personality-flipping Andrea Zuckerman on Beverly Hills, 90210 for most of its seasons, though she did take a hiatus to work on a short-lived talk show, returning in a guest capacity during the latter half of the drama's run.
What's Happened Since Then: Gabrielle Cateris could still be seen in TV shows all over the place in the 2000s, though mostly in one-off roles, with her biggest post-90210 part coming in the Disney web series My Alibi. She currently stars on the CBS medical drama Code Black (opens in new tab), so hopefully that'll do her well.
Larisa Oleynik
What She's Famous For: After kicking off her preteen acting career, Larisa Oleynik landed the young person's role of a lifetime as the telekinetic and water-morphing teen at the center of the hit Nickelodeon show The Secret World of Alex Mack for four seasons. And along with big screen roles in 10 Things I Hate About You and The Baby-Sitters Club, Oleynik wrapped up the 1990s with a few Boy Meets World appearances and as a recurring character on the primetime sitcom 3rd Rock from the Sun.
What's Happened Since Then: In the past 16 years, Larisa Oleynik's most notable live-action appearances were short stints on Mad Men and Hawaii Five-0. She's also had success as a voice actress, starring in the various animated incarnations of Winx Club. Oleynik also reprised her role as Alex Mack, kind of, for a 2014 episode of Robot Chicken.
Dean Cain
What He's Famous For: Though he's probably the last actor you think of when considering all of the people who have played Superman in live-action, Dean Cain actually donned the tights and cape for almost as long as anyone else during the four seasons of the primetime drama Lois & Clark: The New Adventures of Superman. 1999 saw him take on hosting duties for the unscripted Ripley's Believe It or Not!, which lasted the next four years.
What's Happened Since Then: Dean Cain has been all over features and TV in the near-20 years since Lois & Clark ended, but it's been mostly single appearances in hit shows and meatier roles in short-lived series and direct-to-video movies. Most recently, he's been starring on the VH1 drama Hit the Floor, and he returned to the Superman universe as Kara's thought-dead foster father Jeremiah on Supergirl.
Crystal Bernard
What She's Famous For: After leading the 1980s comedy It's a Living, Crystal Bernard lucked out by landing a role on the sitcom Wings as the Texas-born Helen Chappel, whose cello dreams are only eclipsed by her eventual love for Joe Hackett. Bernard starred in the show for 8 seasons, also tapping into her skills as a musician, releasing two pop-country albums by the end of the decade.
What's Happened Since Then: Minus some made-for-TV movies and an appearance on According to Jim, Crystal Bernard has largely stayed away from live-action acting, choosing instead to focus on stage work in the theater. No one has been talking much about a Wings reunion, but I'd be more interested in that than most others.
Clark Johnson
What He's Famous For: After a brief period playing football in the NFL, Clark Johnson got into entertainment through bit TV roles and behind-the-scenes gigs on movies. Then came the signature role of Detective Meldrick Lewis on the hit drama Homicide: Life on the Street, for which he brought out his dramatic acting chops, not to mention his talents in spinning wit and humor. Johnson also got his start as a director on that show.
What's Happened Since Then: Clark Johnson has had a couple of notable roles in the post-Homicide years, including a Season 5 run on The Wire and a leading role on the criminally underwatched political comedy Alpha House on Amazon. He has also kept the director's chair warm, helming episodes of the previously mentioned shows, as well as The Walking Dead, Homeland and The Shield.
Lori Beth Denberg
What She's Famous For: As one of the main cast members on the kids sketch show All That on Nickelodeon, Lori Beth Denberg was one of the network's most recognizable faces. That was helped by her regular appearances as a panelist on the game show Figure It Out. She then went on to star in The Steve Harvey Show, which took her into the 2000s.
What's Happened Since Then: After Steve Harvey ended in 2002, Lori Beth Denberg stopped acting as often. One unexpected highlight was her cameoing as herself in a ridiculous episode of Workaholics, and she'll also be taking part in the upcoming All That reunion happening during a marathon of the show on Teen Nick.
Jaleel White
What He's Famous For: Few actors were more recognizable during the 1990s (and arguably even still today) as Jaleel White, who turned the catchphrase-spouting nerd genius Steve Urkel into a national phenomenon for over 200 episodes. He was also the voice of Sonic the Hedgehog in the various animated series the video game character fronted.
What's Happened Since Then: Jaleel White has made lots of appearances on popular shows like NCIS and House, with his most notable gig coming a few years back as the host of the short-lived game show Total Blackout. He was also on Season 14 of Dancing with the Stars, though as far as winning goes – read this in the whiniest voice possible – he didn't do that.
Sharon Lawrence
What She's Famous For: For a large chunk of the 1990s, Sharon Lawrence was a drama standout as the sharp-tongued Sylvia Costas on the primetime drama NYPD Blue, where she complemented her faux District Attorney skills with those of being faux-married to Dennis Franz's Sipowicz. Following her abrupt exit from that show, she went on to regular roles in the comedies Fired Up and Ladies Man, which took her into the 2000s.
What's Happened Since Then: While she still hasn't found a role nearly as memorable as Sylvia, Sharon Lawrence has been a mainstay in the TV landscape in the past decade-and-a-half, taking on briefly recurring roles on shows like One Tree Hill, Drop Dead Diva and Rizzoli & Isles, to name but a few. She will also soon be seen on the upcoming NBC drama Game of Silence.
David Faustino
What He's Famous For: After having a pretty busy schedule for a child actor, David Faustino landed the iconic (and not necessarily brilliant or sexually appealing) role of Bud Bundy on the long-lasting sitcom Married…With Children. If you consider the part of rap god Grandmaster B as separate from Bud, then he also did that.
What's Happened Since Then: David Faustino has done a ton of acing in the years since Married…With Children went off the air, but it's mostly been in B movies and TV projects that weren't/aren't nearly as popular. He's relied on voice acting more in recent years, starring in The Legend of Korra, Winx Club and DreamWorks Dragons. He's also still trying to get a revival series going for the Bundys, but it's unclear if that will ever happen.
Lark Voorhies
What She's Famous For: If you don't know that Lark Voorhies was the snappy fashionista Lisa Turtle on Saved by the Bell (and Good Morning, Miss Bliss before that), then you apparently missed out on the some of the wildest and most incomprehensible clothing choices of the 1990s. She reprised that role in the two SBTB spinoffs, as well as the Wedding in Las Vegas TV movie, and complemented it with an assortment of TV pop-ins, with a stint on LL Cool J's In the House as her second-longest gig.
What's Happened Since Then: There's was a marked drop in Lark Voorhies' acting career once the new millennium hit, although she's has occasionally been a tabloid fixture for her personal life and changes in her appearance. She did play Lisa Turtle again for an episode of Robot Chicken, though, back in 2008.
Nick is a Cajun Country native, and is often asked why he doesn't sound like that's the case. His love for his wife and daughters is almost equaled by his love of gasp-for-breath laughter and gasp-for-breath horror. A lifetime spent in the vicinity of a television screen led to his current dream job, as well as his knowledge of too many TV themes and ad jingles.
Your Daily Blend of Entertainment News
Thank you for signing up to CinemaBlend. You will receive a verification email shortly.
There was a problem. Please refresh the page and try again.