The 15 Best New TV Characters In 2014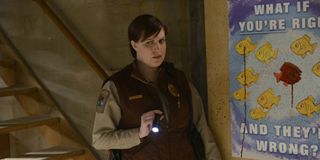 You can't have a great television show without great characters. It's just not possible. And since 2014 was such a solid year for TV, there were a ton of new characters that made an indelible impression on audiences. Whether they showed up on a brand new series, as part of an expanding ensemble or simply as a one-off guest star, this bunch stood out from the pack. Here are the 15 best new television characters of 2014...
15. Professor Annalise Keating
When it was announced that Viola Davis would be starring in Shonda Rhimes' latest TV show, I had a feeling the character would quickly become one of the best on the small-screen and she didn't disappoint. Professor Annalise Keating on (Peter Nowalk's) How To Get Away With Murder is a genius with nerves of steel, both of which come in handy when dealing with her firm's high-profile case of the week as well as her prestigious law class. The master manipulator doesn't mess around in the courtroom but cracks begin to show in her stoic exterior when her personal and professional lives intersect and the students she personally selected find themselves caught in the middle of a murder plot. Of course, those cracks may or may not be real as everything seems to be part of Professor Keating's master plan. Yeah, turns out she's a tough nut to crack, which only makes her more fascinating to watch.
14. Oswald 'The Penguin' Cobblepot
Fox's Gotham is one of the biggest new series of the year thanks, in no small part, to the comic-book adaptation's cast of colorful characters. Among its many heroes and villains, one particular 'person' managed to make an extra large splash. And no, it's not Donal Logue's Harvey Bullock. That's right, somehow someone outshone the Terriers star and his (nick)name is the Penguin. Robin Lord Taylor's Oswald Cobblepot is a slippery sociopath who made quite the impression with fans as his ruthless and always entertaining actions positioned him as the next likely leader of the city's criminal element. Or at least a formidable challenger now that his dish washing days are behind him.
13. Jane Villanueva
Just as I was sure Viola Davis' Annalese Keating would be a standout character on the 2014 television scene, I was equally confident that Jane The Virgin wouldn't last more than a few episodes. Instead, both the show and Gina Rodriguez, the titular Jane, got nominated for a Golden Globe. The character is great because she is young and optimistic but also sure-footed and capable. She knows exactly who she is and where she wants to go, but she still allows herself to get caught up in the moment from time to time. It's the best of both worlds with Rodriguez able to handle both comedy and drama as the show shifts from goofy to serious. Jane the Virgin doesn't shy away from tackling tough material and delivers one of the best new characters of the year.
11/12. Dinesh and Gilfoyle
What? A double entry? Sorry, but I just couldn't single out only one member of the incredible Silicon Valley cast since the entire ensemble is so terrific. Instead, I, uh, singled out two as the best of the best. And to be fair, Kumail Nanjiani's Dinesh Chugtai and Martin Starr's Bertram Gilfoyle are seemingly inseparable on the show itself. The two oddballs are almost always stuck together, and the pair never fails to provide the goods--whether they are going at each other or teaming up to insult one of their coworkers/roommates. I would gladly watch a web series that showed the two's adventures when they are away from the group, starting with that trip to the visa office. There's only one question; who's the Wozniak and who's the Jobs?
10. Doug 'The Pontiac Bandit' Judy
It only took five entries but we've finally arrived at the first (and possibly lone) guest star who made the top fifteen. And clearly I wasn't the only fan of Craig Robinson's first appearance as Doug Judy on Brooklyn Nine-Nine because the cop sitcom ended up bringing him back for a second, both of which happened this calendar year. That's not to say the "Pontiac Bandit" wouldn't have made the list if the first season episode that bears his (nick)name was the only time he showed up on the small-screen but Season 2's "The Pontiac Bandit Returns" definitely solidified his spot and possibly bumped him up a couple of notches. Robinson has great chemistry with Andy Samberg and Stephanie Beatriz and it was very smart on the show's part to give the star a criminal arch-nemesis. This isn't the last we've seen of Doug Judy and that makes me very happy.
8/9. Caitlin and Cisco
Another two-for-one? Yep. And you better get used to it cause the next few entries might also focus on more than one character. Might. Once again, I just couldn't bring myself to separate the sidekicks as Danielle Panabaker's Caitlin Snow and Carlos Valdes' Cisco Ramon work so well together when they're fighting metahumans with The Flash. Caitlin, like Felicity on Arrow and the rug in The Big Lewbowski, just really ties the room together while Cisco provides much needed laughs in the otherwise very earnest superhero series. I could watch the two scientists argue about supervillain nicknames for hours. I hope their comic-book destinies (see or don't see links above) don't get in the way of what's become a really dynamic duo before fans have had their fill.
6/7. Abbi and Ilana
No way I was only choosing one of the titular broads from Broad City. Could you? Didn't think so. Besides, both Ilana Glazer's Ilana Wexler and Abbi Jacobson's Abbi Abrams deserve a spot on this list, especially since I snubbed them when it came to naming my Top 10 Shows. Another odd couple consisting of two odd balls (Ilana's the Oscar and Abbi's the Felix), the pair's antics as they struggle to get by in New York are almost as awkward and somehow sadly relatable (which one are you?) as they are funny. "Nose. Vagina. Butthole. If God didn't want us to put our fingers in there, then why did she make them perfectly finger sized?"
4/5. Margot and Mason Verger
This is the last shared entry, I promise. You don't separate family. I'm sure Katharine Isabelle's Margot Verger would love to be separated from her sadistic brother Mason, played by Michael Pitt, but I couldn't decide which Hannibal character to choose and which one to cut. Besides, Mason did enough cutting (and eating) for all of us. The Vergers deserve their spots on the list because there aren't many characters who can pull one over on Will Graham and/or Hannibal Lecter and yet they both brother and sister managed to manipulate them to their own ends. For a time. Then both their plans spoiled, leaving one without a functioning uterus and the other without a face.
3. Detective Molly Solverson
FX's Fargo was one of 2014's breakout series because of its fantastic ensemble and yet it wasn't the crime drama's big names (your Freemans, Hanks or Bob Thorntons) that made the biggest impression. Instead, it was newcomer Allison Tolman who delivered the Coen Brothers inspired show's most memorable character in Detective Molly Solverson. Just like Frances McDormand's Detective Marge Gunderson, the character on which she was modeled, Molly is the only cop in town who seems to have a clue not to mention the guts to get into a shootout in a snowstorm. I was ready to give up on the rest of Fargo cause it seemed like the show had killed her off. Turns out she was tougher than I thought.
2. Detective Rust Cohle
This probably could have been another dual entry considering True Detective was very much a two-hander but Woody Harrelson's Marty Hart didn't have quite the same impact on popular culture as Matthew McConaughey's Rust Cohle. The latter's philosophical diatribes and general badassery struck a nerve with audiences and the character became fodder for countless parodies. Cohle is an all-time character from creator Nic Pizzolatto brought to life by an all-time performance from McConaughey. And in the end, all the troubled detective really needed was a friend and a big hug (mug). "The light's winning."
1. Prince Oberyn Martell
Was there ever any doubt? I mean, come on. His nickname is The Red Viper, how cool is that? Pedro Pascal's Oberyn Martell is such an amazing character that he was able to stroll onto the already overpopulated Game of Thrones and instantly become a fan favorite. It's not hard to see why, the Prince of Dorne likes to shake things up and the minute he arrived in Westeros he started causing trouble. Who doesn't like the avenging knight? Especially one whose quest is noble and carries a long spear! Sure, he didn't exactly come out of that final fight on top but as Neil Young has said, "it's better to burn out than to fade away." He will be missed. At least he can take solace in the fact that a few of his family members will probably be on this list next year.
Your Daily Blend of Entertainment News
Thank you for signing up to CinemaBlend. You will receive a verification email shortly.
There was a problem. Please refresh the page and try again.