What Celebrity Apprentice Is Going To Change With Arnold Schwarzenegger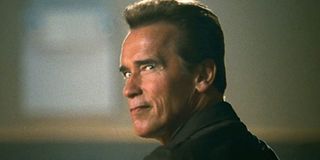 Donald Trump is busy running for President, but before his bid for office became an actual possibility, he was actually fired by The Celebrity Apprentice on NBC. You would think the long-running competition series might call it quits once the coiffed businessman was no longer on board, but in an era where steady ratings are great ratings for NBC, Celebrity Apprentice isn't going anywhere. In fact, the show is being revamped completely. Arnold Schwarzenegger will head up the series as the lead host, and the rest of the boardroom will be replaced. This week, Celebrity Apprentice also revealed there will be another big change coming to the new series: the catchphrase will be completely different when the NBC competition series returns.
If you can remember back to the original run of The Apprentice and the secondary run of The Celebrity Apprentice, Donald Trump was fond of "firing" the contestants when they were sent home at the end of each episode. The exact phrase was "you're fired," and Trump loved to overplay the moment just before the contestant was kicked off the show. Now, however, NBC president Paul Telegdy told The Wrap the catchphrase is definitely going to change for Arnold's tenure on the series. Here's what he had to say:
We've shot multiple endings to 'The Celebrity Apprentice. And I can tell you that Arnold Schwarzenegger, Mark Burnett and I don't even know which catchphrase is going to be put into the end of the first show yet. We may even start a guessing game. We may even run an online competition --- I don't even know yet.
Arnold Schwarzenegger has built a career out of characters who have memorable catchphrases, so NBC really needs to come up with a winner, here. The joke-y "You've been terminated" has been bandied about over the past few months, but there are really a bunch of directions that Celebrity Apprentice could go in. The show could also roll with, "You won't be back. "Hasta la vista, baby" would also work perfectly. "Now this is the plan: Get your ass outta here" (in lieu of "to Mars") might be a little too risqué for network TV. Or, you know, I guess NBC could come up with its own perfectly reasonable and perfectly boring catchphrase. At this point, it seems clear the network has no idea what direction it wants to go in, yet.
Luckily, the network has quite some time to figure it out. Celebrity Apprentice is not expected to return to the schedule until January 2, 2017 at 8 p.m. ET, with Arnold Schwarzenegger and new board members Jessica Alba, Tyra Banks, Patrick Schwarzenegger, Steve Ballmer and Warren Buffett. By that point, we'll already know who won the election. My point is, that's a long time away, and we can't wait to hear what catchphrases the show comes up with in the meantime.
For now, you can check out what is coming to TV with our premiere schedule.
Your Daily Blend of Entertainment News
Reality TV fan with a pinch of Disney fairy dust thrown in. Theme park junkie. If you've created a rom-com I've probably watched it.