All The Hey Arnold Characters That Are Returning For The TV Movie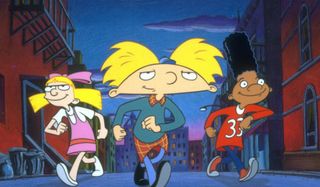 Children of the 1990s, prepare to experience a serious blast from the past. The beloved Nickelodeon cartoon Hey Arnold! will soon make a glorious return to the silver screen in the upcoming film Hey Arnold!: The Jungle Movie. Not only will it answer looming questions we've had about the series for years, it will simply give us more of the characters we have come to know and love. Of course, the show is about far more than just the titular football-headed protagonist, and as such plenty more iconic faces are now confirmed to appear in the film.
According to a new report from TVLine, a ton of major characters will make a return when the Hey Arnold! TV movie premieres. Of course, as we pretty much expected, Arnold, as well as his best friend Gerald, will return to the center stage. However, original voice actors Lane Toran and Jamil Smith will only return to provide the voices of secondary characters, while Mason Vale Cotton and Benjamin Flores, Jr. have been enlisted to portray Arnold and Gerald, respectively. However, Hey Arnold! revolved around so much more than the relationship between Arnold and Gerald, and even more iconic characters will also return to the fray.
It seems that Arnold's living situation won't have changed very much, because Dan Castellaneta will return to provide the voice of Arnold's always-supportive Grandpa. Hands down one of the funniest characters on the show, Grandpa provided Arnold with a much-needed father figure, and always gave him sage advice in his times of need.
Additionally, Tress MacNeille will also return to reprise her role as Arnold's Grandma. Astute fans will remember Arnold's Grandmother as a devil-may-care spirit unafraid to get into a little bit of trouble in order to help her grandson. If she's returning, expect a healthy dose of civil disobedience to take place during the film.
Then there's the matter of the other kids in the neighborhood. It seems that Nickelodeon has tapped Francesca Marie Smith to return as Helga Pataki, Arnold's constant bully who harbors secret a secret crush on him. No word yet as to whether or not she still has her Arnold shrine in her closet, but we have a feeling that it hasn't gone anywhere.
Because you cannot have Helga without her sidekick; Anndi McAfee will return as the bookish Phoebe. Helga's best friend, and a high achiever in school, Phoebe often provided some oddly insightful glimpses into the life of an Asian-American in a way that many children's cartoons never did during that era.
Justin Shenkarow will return as Harold, who -- like Helga -- often walked a fine line between class bully and good friend to Arnold. Many of Harold's storylines often seemed to be the saddest, because beneath his tough exterior he often harbored extreme insecurities about his weight and his intelligence.
Additionally, Olivia Hack will reprise her role as Rhonda, the popular girl in their class. Rhonda's status as the rich, popular girl in class often allowed the show to explore themes of materialism and a reevaluation of one's priorities -- although she often seemed to forget the lessons she had learned between episodes.
Finally, Nika Futterman will once again round out the cast as Olga -- the popular and pretty older sister of Helga Pataki. Olga didn't feature in the main narrative of most episodes of Hey Arnold! very often, so her presence in the upcoming movie seems to indicate that Helga will similarly play a fairly major role in the film.
While that's already an impressive lineup of characters, it's not every single iconic Hey Arnold! voice that we have come to know and love over the years. There's currently no word as to whether or not characters like Sid or Stinky will return for the revival of the hit series, but considering their importance to the Nickelodeon cartoon's original run, it seems like a distinct possibility.
Be sure to stay tuned for any and all details related to the upcoming Hey Arnold! film. Hey Arnold!: The Jungle Movie will premiere in 2017 and continue the story from where we last saw these characters in 2004. For anyone who grew up during Hey Arnold!'s original run, this will be a television even that you won't want to miss.
Your Daily Blend of Entertainment News
Originally from Connecticut, Conner grew up in San Diego and graduated from Chapman University in 2014. He now lives in Los Angeles working in and around the entertainment industry and can mostly be found binging horror movies and chugging coffee.