Watch Conan O'Brien Skip Jokes Last Night To Talk About Orlando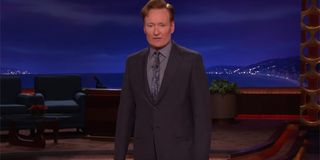 Conan O'Brien chose to take himself out of the network lineup and head to TBS after NBC didn't give him the best shot on the air. However, even though he's on a lesser-watched network at this point, sometimes O'Brien is still the best late night host on television. He struck exactly the right note last night when he chose to forego jokes during his monologue in order to address the Orlando shootings candidly and sometimes bluntly.
Conan O'Brien kicked off his TBS show on Monday night, bringing up that his show's entire goal is to tickle the audience and to try and get them to laugh. He admits, though, that sometimes events are "so horrifying and bleak" that they have to be talked about. They have to be understood from all angles and they have to be discussed so that we can grow as a country. He also addressed what happened at the Orlando club without trying to make sense out of a nonsensical act.
While some late night hosts have always been a little more vocal politically, Conan O'Brien has always tried to keep his opinions to himself for the most part, until last night, when he went ahead and talked about his ideas, questioning how many times Americans will have to suffer following one of these mass murder events before we decide to change the rules and save lives. He's not the only person who has come out and made statements following the shooting by an Islamic State follower at an Orlando gay bar. James Corden had a lot to say at this year's Tony Awards, and last night the likes of Samantha Bee and Jimmy Fallon took a step away from their usual routines to discuss what happened in Orlando. Some of these talks were more pointed and political then others, but after 50 deaths, it's good that people are acknowledging what happened and leaving the floor open for discussion, whatever the forum.
It's always difficult to try and understand any sort of senseless loss of life, and the impact the shootings have had on Orlando and the LGBTQ community cannot be understated. The shootings at Pulse were the largest mass shootings in US history, and they shouldn't be forgotten quickly, either. If you'd like to help the families of those who lost loved ones, a gofundme has already been set up here.
Reality TV fan with a pinch of Disney fairy dust thrown in. Theme park junkie. If you've created a rom-com I've probably watched it.
Your Daily Blend of Entertainment News
Thank you for signing up to CinemaBlend. You will receive a verification email shortly.
There was a problem. Please refresh the page and try again.