How The New Tales From The Crypt Will Be Unlike Anything Else On TV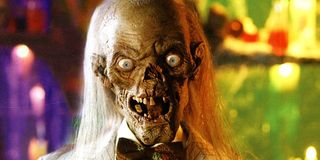 Television nowadays has been a reboot-a-palooza, as networks large and small bring back old shows for another go. TNT has one of the most exciting reboots in the works with the horror anthology Tales From the Crypt, which will be a revamping of the original Crypt series that ran on HBO. The new show already promised to be unique among the horror series currently on television, but now it looks like this version of Tales From the Crypt will stand out in another way. The show will use stories from the fiction site Wattpad for inspiration.
Tales From the Crypt will draw on material posted on Wattpad to create plots aimed to appeal to the current generation of horror fans, according to Rolling Stone. Wattpad is a massive site featuring fiction that ranges from original to fan-generated, with more than 40 million users active on the site. Approximately 20 million -- yes, million -- stories are uploaded to Wattpad each month. Tales From the Crypt will have no shortage of material to use for inspiration.
The idea is that the sub-genres most frequented by horror writers and readers would be ideal for incorporating into episodes of the new anthology. By focusing on categories that already have massive fanbases established, Tales From the Crypt might be able to secure a sizable audience early on. Contributors to Wattpad may even have their stories adapted for a given episode.
If this twist of Tales From the Crypt drawing from the pool of free fiction available on Wattpad comes across as a little bit sketchy, Wattpad bigwig Aron Levitz has already guaranteed that writers will be financially involved if their stories are chosen for adaptation. Permission will have to be granted before Crypt can snag any plots.
Fan service has become a part of the entertainment industry in recent years with projects ranging from Marvel's cinematic universe to Star Wars to, arguably, even Game of Thrones. Instances of fan service are generally fun nods to viewers rather than big course changes in plots, so Tales From the Crypt literally taking plots from stories generated by horror fans is a bold new direction to take that will truly be unlike anything else on TV.
Only time will tell if this strategy of drawing on Wattpad for inspiration will work for Tales From the Crypt. The show was ordered to series with a ten-episode first season to air on TNT. The original Tales From the Crypt on HBO ran for seven seasons from 1989 - 1996 and made frequent use of nudity and gore to up the horror ante. The reboot will have to be more conservative to air on TNT, but, hopefully, producer M. Night Shyamalan will turn Tales From the Crypt into a success. He hasn't always had the best luck with projects. Perhaps Crypt will be one to really work.
We can't say at this point just when we'll be able to see Tales From the Crypt on TNT with its Wattpad inspiration, so check out our summer TV premiere schedule to see what you can watch in the meantime.
Resident of One Chicago, Bachelor Nation, and Cleveland. Has opinions about crossovers, Star Wars, and superheroes. Will not time travel.
Your Daily Blend of Entertainment News
Thank you for signing up to CinemaBlend. You will receive a verification email shortly.
There was a problem. Please refresh the page and try again.