Game Of Thrones' Battle Of The Bastards Didn't Play Out How We Expected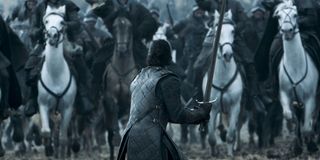 Spoilers if you haven't caught Season 6, Episode 9 of Game Of Thrones' "The Battle of the Bastards." It was a doozy, and we highly suggest giving it a watch.
We've known for a while that Game of Thrones would be leading up to a big fight in The North, and not just another fight against the white walkers. This one would be a clash of men and, in the wildling's case, giants. During tonight's episode, all of the preparations that Jon Snow and Sansa had been making came together into a ragtag army that decided to take on Ramsay Bolton in an effort to take back Winterfell and save Rickon Stark. However, it didn't play out exactly as fans wanted or hoped.
In fact, the big consequence early on in "The Battle of the Bastards" was Rickon Stark's death. The whole thing was foreshadowed in a compelling scene between Sansa Stark and Jon Snow in which Sansa fought to make her half-brother hear heed her advice. While Jon Snow talked about magically tricking Ramsay and getting Rickon back, the jaded Sansa told her brother that she knew that as a true son of Ned Stark, Rickon was a threat and would not be allowed to leave.
While Jon Snow was right that they needed to fight for Winterfell, Sansa Stark ended up being correct about a lot of other things. Ramsay Bolton disposed of the poor youngest son in the Stark family in the most despicable of ways. He told Rickon he wanted to play a game, and let the poor boy run toward Jon and shot arrows at him as they ran. Rickon was braved and ducked and dodged the airborn foes but didn't quite make it. He died in Jon Snow's arms.
The rest was utter chaos. Jon Snow couldn't keep control of his emotions and led the charge far earlier than he and Ser Davos had planned. Ramsay's cavalry came at Jon Snow as he stood by himself. Eventually cavalry fought cavalry and the former head of the Night's Watch put in an insane fighting performance, never tiring even when it seemed defeat would come knocking.
During the episode, a lot was spoken about creating a world that improved upon the one that fathers had built (fitting considering the holiday, although that was probably happenstance). In Meereen, Dany and Yara spoke about bettering their lives and the lives of others by taking over the seven kingdoms. In The North, the Stark army was fighting to take back their home and power, but truly the real question was whether goodness or brutality would prevail. As it turned out, Sansa had hooked up with Littlefinger, turning the tide of the battle. Jon Snow got to face Ramsay and beat him up. We're a little sorry to see a villain as capable as Ramsay go, but hearing Sansa tell her husband that his name would disappear before she unleashed his hounds on him might be the most fitting sequence of events we've gotten all season.
It's difficult to tell how the finale will wrap up the Season 6 story next week, but there's almost no way it could top "Battle of the Bastards," one of the hardest and most expensive the series has ever shot. Tune in next week to catch the finale when Game of Thrones airs Sunday night at 9 p.m. ET, only on HBO.
Your Daily Blend of Entertainment News
Reality TV fan with a pinch of Disney fairy dust thrown in. Theme park junkie. If you've created a rom-com I've probably watched it.