How Sophie Turner Feels About That Big Game Of Thrones Scene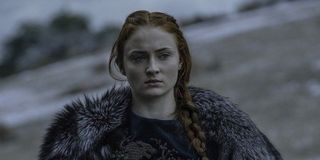 Warning: spoilers ahead for the latest episode of Game of Thrones. Don't read on if you aren't caught up!
Diehard fans of Game of Thrones know by this point that the ninth episode of each season is not to be missed. Big things go down during ninth episodes, and the ninth episode of Season 6 was definitely no exception. There were two major battles and a whole bunch of action, but the biggest scene had to be the death of Ramsay Bolton at the snapping jaws of his dogs. Sansa was the one to loose the hounds on him, and actress Sophie Turner was on board with her character getting the kill.
Sophie Turner's reveal to EW that she felt Sansa deserved to be the one to kill Ramsay's life makes sense, considering what Sansa went through during Season 5. After spending most of the series being traded and manipulated as a trueborn daughter of Ned Stark, she married Ramsay Bolton. Ramsay proceeded to brutalize her to the point that it was sometimes difficult to watch Sansa's Season 5 scenes. Sophie Turner was remarkable throughout, but she deserved the chance to play something other than brutalized in Season 6, and Sansa killing her tormenter was the perfect payoff for the character.
Considering all that Sansa has been through since leaving Winterfell back in Season 1, it's actually surprising that Sansa has lasted for as long as she has without getting a kill. She's survived impossible situations, ranging from living as the betrothed of the psychopathic Joffrey in King's Landing to becoming the target of her crazy aunt's ire in the Eyrie to escaping the Boltons and Ramsay's hounds in the North. It's fitting that the first time she kills is to end the life of Ramsay and the line of the Boltons.
Ramsay really needed to die in this most recent episode. He's been enough of a monstrosity since the beginning that Theon Greyjoy seemed like a good guy in comparison, and he's outdone even Joffrey as the most twisted character of the series. Personally, I might have had a hard time really being psyched for the Season 6 finale and Season 7 next year if Ramsay hadn't been killed off in the epic Episode 9 battle.
Jon Snow giving his sister the go-ahead to do what she wanted with her husband was a fitting acknowledgment from him that she was right about what Ramsay could and would do to try to win the battle. Jon's army would have been massacred because Ramsay got under Jon's skin by killing Rickon; Sansa predicted Rickon's death and then saved the day by summoning Littlefinger. The Starks suffered a big loss with the death of Rickon, but Jon and Sansa may be a stronger unit than ever in the wake of the big battle.
We only have one episode of Season 6 left, so we probably won't get to see too much of the wake of the battle. Take a look at our breakdown of what we know so far about Season 7 for a peek ahead, and check out our list of the biggest WTF moments of the latest episode of Game of Thrones.
Resident of One Chicago, Bachelor Nation, and Cleveland. Has opinions about crossovers, Star Wars, and superheroes. Will not time travel.