Channing Tatum Has A New Show That Could Be The Weirdest Thing On TV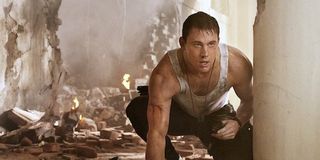 Channing Tatum is a pretty big name in showbiz, but his work has mostly been in front of the camera for movie projects. He and his production company have recently started developing a handful of interesting TV projects, and the latest one is basically one of the weirdest things that will (potentially) be and has ever been on TV. The show will be an action comedy called Iron Fisting with the unique creative approach of being filmed as a fake 1980s Romanian cop show.
No, this isn't Mad Lib day at CinemaBlend. Channing Tatum is really producing a fake Romanian buddy cop comedy called Iron Fisting. The series will follow a pair of cops with very different attitudes toward their work as they do what they can to protect the values of 1980s Romania, according to Deadline. The two cops may not have a lot in common, but they can work together to battle the evils of capitalism and preserve communism for their fellow Romanians. The dialogue will be dubbed in English in the manner of a real Romanian TV series, for extra WTF-ness.
Production company A24 evidently has plenty of faith in the idea that Iron Fisting will be something uniquely hilarious for TV. Partnering with Tatum's Free Association, the company is on board to fully finance an entire first season of the show before any network has signed on to air a single episode. Production will be entirely independent of any network restrictions or guidance, and the show is set to be shopped around after the first season has been completed.
Iron Fisting was inspired by the classic American crime drama Miami Vice, which ran for five seasons from 1984 - 1989 on NBC. Miami Vice was a popular show at the time for not only Don Johnson's perma-stubble, but also the flashy take on the genre, and it has an enduring legacy for everything from speed boat chases to pastel suit jackets without dress shirts. Style! A Miami Vice movie was released in 2006, and the animated Comedy Central series Moonbeam City brought plenty of laughs by lampooning the formula of the original show.
We can be sure that Iron Fisting, with its two communist cops, will be very different from Miami Vice with Crockett and Tubs, but there's no reason why a show that is being touted as the "greatest 80s Romanian cop show ever" shouldn't be able channel some of the craziness of the era without copying Vice explicitly. We probably shouldn't expect too many speedboat chases and sunny beach locations in the mostly-landlocked Romania. The differences between the Miami setting and communist Romania should guarantee that Iron Fisting won't feel like something that has been done before.
Casting has not yet begun for Iron Fisting, but while Channing Tatum is not set to appear as a character, he may lend his voice to the project in some way. Production is set to begin in Eastern Europe this September. The crew at Iron Fisting will need to get a move on in finding the perfect actors for the Romanian communist versions of your standard 1980s fictional cops.
It will still be a while before we could possibly get to see Channing Tatum's new show about Romanian cops in the 1980s, and he's keeping plenty busy in the meantime. He might not appear much on TV -- that is, unless he makes another awesome appearance on Lip Sync Battle or shows up regularly on the dance reality series he's producing with his wife -- but you can check out our summer TV premiere schedule to see what you can watch while we wait for more on Iron Fisting.
Resident of One Chicago, Bachelor Nation, and Cleveland. Has opinions about crossovers, Star Wars, and superheroes. Will not time travel.
Your Daily Blend of Entertainment News
Thank you for signing up to CinemaBlend. You will receive a verification email shortly.
There was a problem. Please refresh the page and try again.