How Sansa Feels About Jon Snow, According To Sophie Turner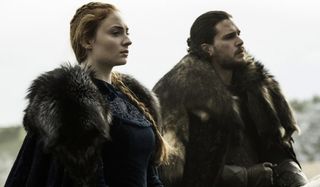 It's hard to believe that the Game of Thrones finale only hit the schedule just a few days ago. In the time since, we've discussed Arya's Frey pie, Jon Snow's purported identity and the major fatalities in the episode, but some of the quieter storylines haven't been fully fleshed out. One of those storylines is Sansa's. The eldest Stark daughter had a short heart-to-heart with Jon, where she apologized for not telling him about Littlefinger's army. Still, his response to her wasn't particularly satisfying and in a recent interview, actress Sophie Turner, who plays Sansa on the HBO drama, revealed exactly what her character has been feeling about Jon Snow, and where those feelings could lead her in the future. Here's what she had to say:
I think that most of us can agree that Sansa Stark did not get a fair shake in the Season 6 finale. Sure, it was cool that she got to be the character who announced "winter is here," but in other parts of the episode, she was stuck supporting her relative when it was clear that she was the person who actually had the winning strategy during "The Battle of the Bastards" (especially after Jon ignored his own strategy to attempt to save Rickon). It's no surprise that Sophie Turner told THR that Sansa is feeling a little jealous.
Sansa's taken a lot of crap over the past six seasons of Game of Thrones. The only time she's really felt like she has had any sort of power has been when Littlefinger has been around. Petyr Baelish finally made it clear to Sansa in the finale that he wants to be with her, but not just because he's so clearly infatuated with her. He wants to be an intense power couple that takes over Westeros together. That was a statement that Sansa clearly wasn't ready for when he made it, but as the houses of The North rallied around Jon Snow, we saw her give Littlefinger a little smile.
It's too early to tell if Sansa will choose to push aside her concerns about Jon Snow and his leadership abilities along with her own personal ambitions. There may no longer be a king on the Iron Throne, but there is still sure to be a power struggle, as Cersei took the crown in King's Landing, Dany began her journey across the sea, and Jon Snow rallied The North. Plus, there is still the threat of the White Walkers. Something tells me this won't end well, and only time will tell whether or not Sansa will be there to pick up the pieces.
Game of Thrones returns to the schedule next spring. Find out what we know about Season 7 here.
Your Daily Blend of Entertainment News
Reality TV fan with a pinch of Disney fairy dust thrown in. Theme park junkie. If you've created a rom-com I've probably watched it.