13 Summer TV Shows You'd Be An Idiot Not To Watch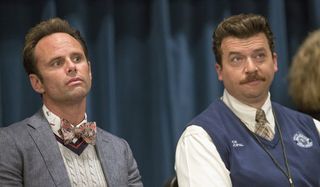 The fall season is generally known as the best place for television, but networks finally realized a short time ago that people still watch TV over the summer, making it the perfect time to bring out limited series and similar short-run projects. We need something to do other than sweat.
Here are 13 summer TV shows that you definitely shouldn't miss out on, no matter what older shows are trying to tempt you into returning to them for binge sessions. All genres are accounted for, so even if you don't watch ALL of them, try not to go all the way to September without making SOME of them appointment viewing. (To see when everything is hitting TV over the summer, check out our premiere schedule.)
Orange is the New Black - Netflix
After waiting a year to see how Litchfield Penitentiary would deal with all the major changes in terms of prisoner intake and employee substitutions, Netflix subscribers finally got a chance to dip back into the hectic world of Orange is the New Black when Season 4 debuted. And holy crap, did the drama get ratcheted up. With a new pack of tyrannical guards (fronted by Brad William Henke) arriving to rule the halls with an iron fist, among other things, Orange is the New Black finds its footing this season with a narrative that mirrors recent headlines about corrupt and violent cops. And by the time that depressing finale is over, nothing will sound better than hitting up a sunny beach.
Premiere Date: June 17
Vice Principals - HBO
Two of the greatest TV characters of the last (however many years) are Eastbound & Down's Kenny Powers and Justified's Boyd Crowder, and HBO's upcoming comedy Vice Principals is gloriously bringing together actors Danny McBride - who co-created alongside frequent creative partner Jody Hill - and Walton Goggins for some truly psycho shenanigans. The pair play school officials who, when passed over for the main gig in place of Kimberly Hebert Gregory's Dr. Belinda Brown, soon share not only the vice principal position, but also the goal of ruining Dr. Brown's life. (And shit gets WILD, guys.) With a cast that also includes Shea Whigham, Busy Phillipps and Georgia King, Vice Principals finally gives HBO another ribald comedy to howl at between seasons of Veep and Silicon Valley.
Premiere Date: July 17
The Last Ship - TNT
I'm certain that there are many TV viewers out there who would be fine with just watching an hour of actor Eric Dane wearing snugly-fitted military uniforms, but thankfully the TNT thriller The Last Ship has a hell of a lot more going on to keep everyone else interested. (But yes, there are definitely pause-worthy shots of Dane's Tom Chandler to relish.) While the premiere was initially delayed last month due to a sequence similar to the Orlando nightclub shooting, things are back on track for the extended third season, which took Chandler to Asia and broadened the threats hindering our more virtuous characters' survival. You're not going to find a better example on TV of cinema's quintessential summer blockbuster, and it's more worthy of your time than lots of recent big screen offerings.
Premiere Date: June 19
Outcast - Cinemax
Simply put, Outcast is great horror television, regardless of how you feel about creator Robert Kirkman or that other show of his, The Walking Dead. Based on Kirkman's comic of the same name (which is lovingly illustrated by Paul Azaceta), Outcast focuses on Patrick Fugit's highly troubled Kyle Barnes, whose entire life has been plagued by demons possessing the minds and bodies of his loved ones. No longer able to escape, Kyle decides to take them straight on with the help of Philip Glenister's Reverend Anderson, and the unnerving result refreshingly feels unlike most Exorcist-aping possession horror, with genuine scares provided by extremely effective editing and sound design, not to mention the special effects. And we know Season 2 is coming next year, so do not let your idle hands turn into the devil's playthings. Get them on a remote control, stat.
Premiere Date: June 3
BoJack Horseman - Netflix
Though Orange is the New Black has laughs buttressing the dramatic bits, BoJack Horseman was Netflix's first true original comedy, and it remains one of the streaming services' sharpest shows, down to its unexpected Christmas special. Will Arnett voices the titular former sitcom star and current substance abuser, and the entertainment-skewering Season 3 will see BoJack Horseman getting his fame reaffirmed as the Secretariat movie he worked on during Season 2 is released to much fanfare. All will go wrong fairly quickly, and we assume BoJack will pull ex-roommate/improv cult member Todd (Aaron Paul), ghostwriter and Mr. Peanutbutter's lover Diane (Alison Brie) and unwavering talent agent Princess Carolyn (Amy Sedaris) down with him.
Premiere Date: July 22
Murder in the First - TNT
As a drama that dedicates each season to a particularly murder-mystery, TNT's Murder in the First doesn't ever get as deep and nuanced as True Detective Season 1, but it also never slogs along through dismal darkness like True Detective Season 2 did. With the always enjoyable Taye Diggs and Kathleen Robertson back as the lead detectives (along with others within the San Francisco Police Department), Season 3 of Murder in the First centers on a football player's murder while also giving Inspectors English and Mulligan a handful of personal problems to deal with. Their problems aren't as big as Siletti's though, as he gets in some very hot water flowing from different directions. Expect twists.
Premiere Date: June 26
Tyrant - FX
While Middle Eastern characters are usually portrayed on TV as violent terrorists, non-violent terrorists or just your everyday extremists, Tyrant is the rare exception that puts a Middle Eastern family right at the center. (Although having British actor Adam Rayner in the lead role waters it down a bit.) Tyrant was created by Gideon Raff, whose Israeli series Prisoners of War inspired Homeland, and it was developed by Homeland adapter Howard Gordon and writer Craig Wright. And while this drama isn't as tight as those others in their best days, it's still extremely intriguing to watch a political crisis that won't be solved by some Deus ex Americana, and the addition of Chris Noth to Season 3 will assumedly only make things better.
Premiere Date: July 6
Dead of Summer - Freeform
Not every show with "summer" in the name will automatically serve as a TV mascot for the season, but Freeform's new horror Dead of Summer has a chance, although one' genuine enjoyment will vary. Created by Once Upon a Time developers Edward Kitsis and Adam Horowitz, along with OUAT writer Ian Goldberg, Dead of Summer is more camp than its idyllic midwestern 1989 setting, rallying every possible genre cliché imaginable to its story of an ancient evil rising up and ruining everyone's fun. While arguably the "worst" show on this list, this exercise in corniness is well worth it if you can find a group of jovial friends who like railing on wooden acting and cheesy jump scares.
Premiere Date: June 28
Mr. Robot - USA
Mr. Robot is one of those shows that you have to wonder how it could possibly go on after everything that happened in Season 1. But then you think about just how successful Season 1 was - it basically became USA's most well-received original series in the network's history - it was inevitable that Rami Malek's hacker maestro Elliot would be back on our TVs for more techno-thriller action. The stakes are definitely being raised in Season 2, as the economy is in shambles after the hack attack and the revolution is gaining ground. But the first thing the show will have to do is get Elliot's brain back on the right track after all of Season 1's revelations, and that won't be easy. But you will be watching.
Premiere Date:
Stranger Things - Netflix
For my money, no network or outlet earns as much assured optimism for new projects as Netflix, and the service's Stranger Things, a bizarre and darkly comedic supernatural horror set in the 1980s, could not have been more tailor-made for me and other like-minded folks. The show is centered on a small Indiana town where children are mysteriously going missing, and the story focuses on Winona Ryder's stressed-out mother Joyce, David Harbour's pill-popping Chief Hopper and a group of RPG-loving young boys determined to find their friend. Created by Matt and Ross Duffer, best known for penning episodes of Wayward Pines and for writing/directing the underseen horror Hidden, Stranger Things embraces the 1980s in all the right ways, from the score to the eye-popping costumes to the genuinely frightening scares. It will bring the chills to your warm evenings.
Premiere Date: July 15
UnREAL - Lifetime
While most reality television is so ridiculous that some shows can serve as parodies of themselves, Marti Noxon and Sarah Gertrude Shapiro had the brilliant idea to spin a scripted series out of that madness, focusing on a dating show and the non-stop effort by those behind-the-scenes to keep the onscreen content as salacious and confrontational as possible. That scripted series is Lifetime's surprising critical hit UnREAL, currently in a second season that has introduced lots of new hot messes for audiences to cringe at while also watching the producer triangle of Rachel, Quinn and Chet trying to secure control of the show. (As well, Forever's Ioan Gruffudd joined Season 2 as the network owner, which is grand.) Season 3 was recently ordered, so here's hoping UnREAL will be a summer staple for many years to come.
Premiere Date: June 6
Angie Tribeca - TBS
To balance all the serious dramas that air during the summer, as well as all of the real-life horrors reported by news outlets, there exists Angie Tribeca to sap your mind of such atrocities, replacing them with guilty pleasure groans and giggles. Not since Police Squad has a TV show embraced the spoof genre so wholeheartedly and effectively, with constant blink-and-you'll-miss-it sight gags and perfectly deadpanned performances from Rachida Jones, Hayes MacArthur and Jere Burns, to name a few. Created by Steve Carell and his actress wife Nancy Carell, Angie Tribeca is so ridiculous that it's virtually impossible to fixate on life problems while watching, and that's exactly what the summer is good for.
Premiere Date: June 6
The Night Of - HBO
With Game of Thrones Season 6 now a thing of the past - except for all of us still talking about it, of course - The Night Of is exactly what HBO needed to keep drama enthusiasts happy on Sunday nights. Based on the British miniseries Criminal Justice, The Night Of kicks its story off with Pakistani-American Naz Khan (Riz Ahmed) partying all night and waking up clueless about the dead body of the woman he'd spent the evening with. The complicated case is handled by defense attorney Jack Stone - played by John Tuturro in a role originally meant for James Gandolfini (listed as executive producer) and Robert De NIro - and the show plays like a fictional version of Making a Murderer or HBO's own The Jinx. There's a good chance by the time September gets here, you'll be referring to "the night of" your massive The Night Of binge session.
Premiere Date: July 10
Your Daily Blend of Entertainment News
Assistant Managing Editor
Nick is a Cajun Country native, and is often asked why he doesn't sound like that's the case. His love for his wife and daughters is almost equaled by his love of gasp-for-breath laughter and gasp-for-breath horror. A lifetime spent in the vicinity of a television screen led to his current dream job, as well as his knowledge of too many TV themes and ad jingles.
Your Daily Blend of Entertainment News
Thank you for signing up to CinemaBlend. You will receive a verification email shortly.
There was a problem. Please refresh the page and try again.